Although there has been reported use of unmanned aerial aircraft, or drones, dating back to World War II, the pilotless vehicles really took off with the introduction of the U.S. government's Predator drone, which became a favorable method of surveillance and military action.
Since that time in the 1990s, drones have become smaller and smaller, and have acquired some less intense functions, even being used solely for entertainment purposes.
Now, drones are a common staple in the technology sector, taking consumer electronics shows over by storm and causing the Federal Aviation Administration (FAA) to set up a series of rules and regulations for operation.
Since drone use is on the rise, and being used in many sectors including real estate, search and rescue missions, archaeology and pure hobbyist enjoyment, it's no wonder that educational institutes are arising to teach individuals and organizations how to operate the aircraft safely and efficiently.
"They're popping up like gas stations," said Paul Dragos, Dean, School of Flight Training at Unmanned Vehicle University (UXVU) and former Navy Pilot who participated in Predator Drone Testing.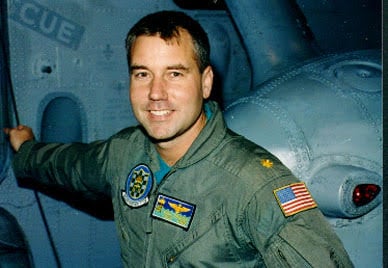 Throughout his career, Paul has amassed over 2,500 flight hours in a variety of military aircraft, including Jets and helicopters. (Image Credit: Paul Dragos)
UXVU the first university in the world to offer degrees in unmanned systems engineering.
The university offers a variety of different programs for those interested in either receiving lessons for personal use, for potential use in commercial applications, or government groups like police departments. Students can get hands-on, one-on-one training with drones geared toward the application they would be using them for.
According to Dragos, there are a few groups that find drone education and hands-on experience most beneficial. These include individuals interested in becoming a drone pilot, but who want to have the "edge" when compared to fellow candidates in the industry, as well as police and military programs, and those interested in taking on the growing field by opening up their own drone-related business.
"Drones are going to become a part of everyday life," added Dragos, who compares the drone revolution to that of the automobile.
Admittedly, anyone could order a drone on-line, take it out of the box and probably learn to fly it effectively, but Dragos believes that the comfort and confidence to operate an unmanned vehicle comes along with proper training, in the same way teenagers take driving courses to learn how to drive a car.
When it comes to hands-on drone training, the university mainly deals with Class 1 drones, which fall into the 4.4 lb. to 55 lb. weight range and are projected to make up about 95% of all drone use. So, if an individual or group is learning how to fly drones for real-estate purposes, they might get up-close-and-personal with a 14 lb. DJI Inspire Drone, which could be effective in that sector.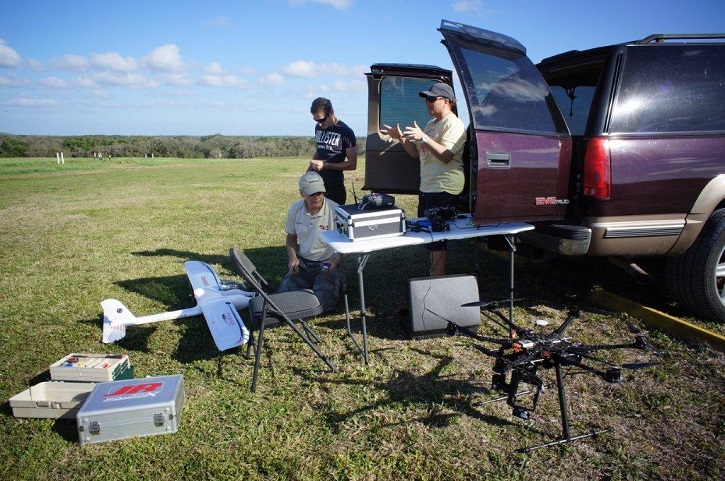 Students and Instructors prepare for hands-on drone training. (Image Credit: Unmanned Vehicle University)
Hands-on training isn't solely "hands-on" though. Participants are required to endure 12 hours of videos and testing and then master 10 hours of flying maneuvers in a simulator that they receive when they sign up. Once complete, students will get to meet with instructors for two to four days at either an open air space or designated flying field for real-life instruction and practice.
One of the biggest challenges students encounter when training for the first time is something Dragos refers to as "attitude orientation." When an aircraft is developed, its accompanying system is created around its center point, which means when you push a joystick forward, the aircraft would move forward, if you push it to the left, it would move to the left. However, what happens when you rotate the aircraft 90 degrees? Pushing the joystick forward would no longer cause it to move forward, but instead to the left or right, depending on which direction it was facing. This concept tends to confuse new pilots tremendously, and can only be solved with practice, as well as techniques and tricks offered by drone trainers like the ones at UVXU.
Other than that hiccup, Dragos considers drone piloting "fairly simple."
Using a Drone Education for Good
While news outlets focus their attention on the many drone accidents that have occurred over the past few years, including a crash into the White House and the near-hit of a professional skier in Italy, Dragos emphasizes the technology's positive aspects. As with any new technology, there are "learning curves" and "growing pains," as he calls them.
For example, UXVU recently trained a California life-guard organization that will be implementing drones into search-and-rescue missions. If someone is stuck out in the ocean, the lifeguards can deploy a drone, approximately 50 lbs., equipped with a life vest. The drone can reach the distressed swimmer in just seconds, allowing the lifeguards ample time to physically swim to the rescue and possible save the swimmers life by providing a life vest as a temporary floating device.
Of course, coming from a military background, Dragos shed light on the positive impact that drones will have on military personnel in combat.
"[Drones] will give a new realm of control and awareness to the military that it didn't have before," said Dragos. The technology has the potential to minimize human exposure to danger and save lives.
UXVU completely supports the new FAA drone requirements being implemented for commercial use and hopes the new rules will eliminate, or at least minimize, drone accidents.
If drone trends continue the way they are going, we could even see drone training a permanent offering in university programs.
Dragos definitely thinks so.
"Drones are going to be performing all kinds of things we didn't even think of yet," he said optimistically.