Everywhere we look, we are hit with a new kind of "drone." While drones are typically considered aerial vehicles, companies are constantly incorporating them into underwater operations. Last week, the U.S. Navy announced plans to deploy its "Blackwing," a small, unmanned aircraft system that is launched from under the sea.
But that's just the beginning. There is a plethora of underwater drones on the market—both for consumer and research purposes.
Here are some of the latest underwater drones that have made a splash in the technology space over the past year.
1. Trident

Here's one for anyone who would like to purchase their own underwater drone. The Trident is an inexpensive drone that's small enough to fit into a backpack.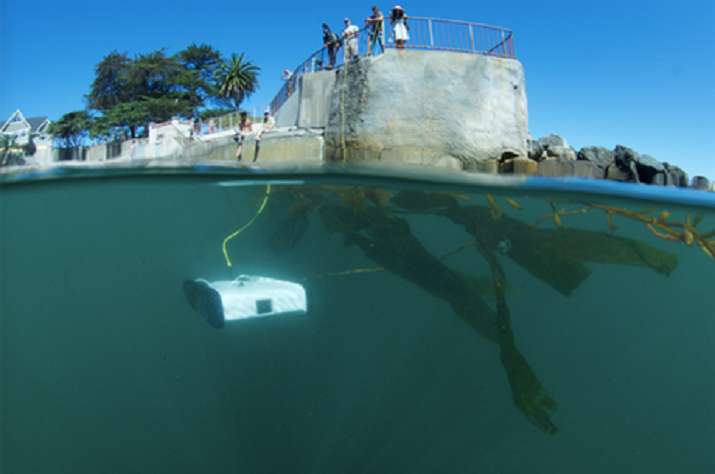 (Image Credit: OpenROV/Kickstarter)
The drone was created by OpenROV, a startup company just four years old whose co-founders, Erick Stackpole and David Lang, came up with the design for their first underwater kit when they wanted to find gold in an underwater cave.
Since the company's initial launch, which was aided by a Kickstarter crowdfunding campaign, OpenROV kits have shipped to over 32 countries worldwide.
Now the company has released Trident, which can reach depths of almost 330 feet and possessess a hydrodynamic shape that allows for quick movements. The drone captures live video that is relayed back to the surface.
The smartphone-controlled drone can be used for a variety of applications, including 3-D mapping, boat inspections and basic underwater exploration. Initial versions of Trident are expected to ship later this year, and once officially available for purchase will retail for $1,500.
2. iBubble

Anyone who wants his or her every move recorded underwater may be interested in iBubble. The autonomous underwater vehicle was designed solely to capture your dives on film. The drone has a distortion-­free optical dome, image-stabilization software, enhanced image filtering and integrated obstacle-avoidance features based on sonar technology. While the drone is pretty simple to use, its main focus is on video and camera features.

Using tracking technology, the drone can follow a diver and with its installed camera, transform what the diver sees into unique films or record the diver's own movements for analysis and improvement of technique.

The drone follows its owner via a connected bracelet for up to one hour and depths up to 200 feet.

The bracelet can also be used by the swimmer to control the drone, switching between pre-set filming modes that allow for 360° pictures, follow-me movies, and wide-angle and close-up views.
3. Ocean One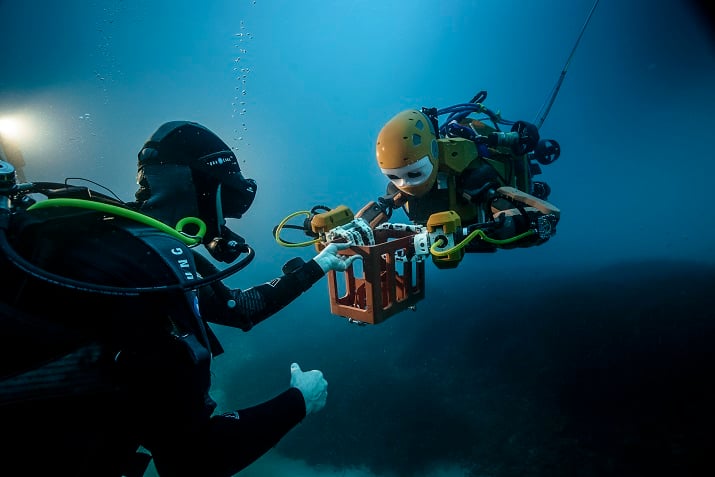 OceanOne was designed for joint operations with human divers. (Image Credit: Frederic Osada and Teddy Seguin/ DRASSM)
This one isn't for consumer purchase, but researchers from Stanford University recently revealed a humanoid robot powered by artificial intelligence and haptic feedback systems that would allow human navigators a new set of capabilities when it comes to underwater exploration.
The five-foot-long Ocean One robot is equipped with stereoscopic vision that shows the pilot exactly what it sees, along with two fully functional arms. The robot's "tail" is composed of batteries, computers and eight multi-directional thrusters.
Each of Ocean One's wrists is fitted with force sensors that relay haptic feedback to the pilot's controls, so the human can actually feel whether the robot is grasping something firm and heavy, or light and delicate. Then the robot's brain retrieves the data and makes sure that its hands keep holding the object firmly, but without damaging it. Potential applications for Ocean One include exploring shipwrecks, manipulating delicate coral reefs and placing sensors below the sea.
Currently there is only one prototype of the robot, but the Stanford team hopes to build more units to work in harmony during a dive.
4. CRACUNS—The Corrosion Resistant Aerial Covert Unmanned Nautical System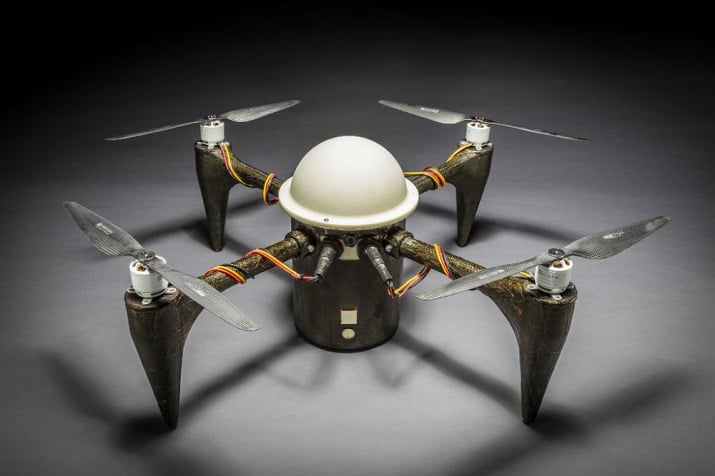 The Corrosion Resistant Aerial Covert Unmanned Nautical System—or CRACUNS—is a submersible UAV that can be launched from a fixed position underwater, or from an unmanned underwater vehicle (UUV). (Image Credit: Johns Hopkins APL)
Just like the aforementioned "Blackwing" drone, researchers at the Johns Hopkins University Applied Physics Laboratory developed an unmanned aerial vehicle (UAV) that can stay on station beneath the water, then launch into the air to perform a variety of missions.
CRACUNS is a submersible UAV that can be launched from a fixed position underwater, or from an unmanned underwater vehicle (UUV), so it can operate in both air and water.
5. SeaDrone

This underwater drone can be purchased by consumers, but initially was developed with the goal of inspecting boats, docks, nets and pipelines—tasks that typically can be costly and require large equipment and experienced divers. The SeaDrone can perform these operations for minimal costs and little experience.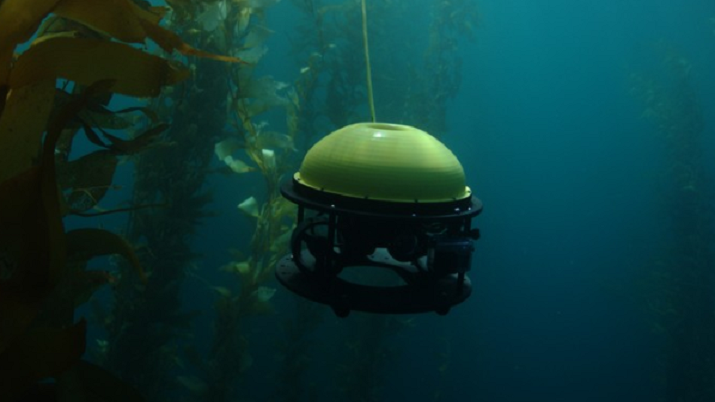 SeaDrone can perform underwater operations for minimal costs and little experience.
The underwater drone is equipped with modular hardware and software that allows for easy vehicle performance upgrades. Its automated vehicle stabilization and integrated sensors allow for easy and intuitive piloting, and the drone even comes with smart cameras to capture full high-definition video. After downloading the accompanying application, SeaDrone can be ready to dive within seconds.

If you're interested in purchasing one, it will cost anywhere from $2,300 to $3,900.
6. Saab's Sea Wasp
Over at Saab SeaEye, there's a fully equipped prototyping machine shop available for development engineering, a team of electronic and mechanical engineers and technicians, as well as an underwater 400 x 200 x 18-foot-deep test tank for ROV evaluation.

This is where the SeaEyes are made.

The company's most recent ROV is the Sea Wasp, which was designed for operation by a two-man team, piloted from the surface using a control console on board the support vessel or from a control vehicle ashore, using a power-supplying, fiber optic tether.

The company has been training U.S. military personnel and law enforcement on how to operate the Sea Wasp for use in countering underwater improvised explosive devices.
The Sea Wasp is equipped with five thrusters to lock into position on a ship's hull or harbor wall. With the help of its five-function manipulator arm, a disruptor can be positioned beside a target, ready for detonation. The vehicle is then piloted back to the surface for recovery, after which the disruptor is fired from the surface and a target neutralized.
And this is just the beginning of the list. The U.S. Navy is constantly looking for new underwater vehicles, researchers are constantly developing new and improved underwater drone technology, and tech entrepreneurs are always looking for a new way to make money, so this will not be the last of the underwater drone craze.