Silicon on sapphire (SOS) specialist Peregrine Semiconductor Corp. has expanded its glitch-less RF digital step attenuator (DSA) portfolio with the addition of a 75 Ω member PE4314. The UltraCMOS SOS based PE4314, in fact, extends the family from 50 Ω glitch-less RF DSAs to 75 Ω. UltraCMOS SOS platform uses 150 mm wafers and a 250 nm CMOS process.
Designed for wired broadband applications in cable/satellite customer premises equipment (CPE) and infrastructure equipment, the 75 Ω PE4314 significantly reduces the attenuation state transition glitches. To enable customers to decrease their engineering overhead and prevent damage to expensive sub-assemblies, the new RF DSA features a novel architecture to provide the best-in-class glitch-less transition behavior when changing attenuation states. Consequently, it reduces the output power glitch to less than 0.5 dB.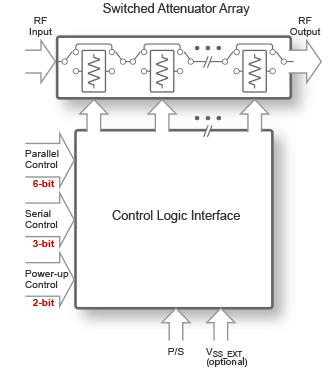 UltraCMOS DSA offers glitch-less attenuation state transitions.Supporting a frequency range of 1 MHz to 2.5 GHz, PE4314 is pin-for-pin compatible with 50 Ω DSA versions PE4304, PE4307, PE4308 and PE43404. The unit covers a 31.5 dB attenuation range in a 0.5 dB step, and is capable of maintaining 0.5 dB monotonicity through 2.5 GHz. An integrated digital control interface supports both serial and parallel programming of the attenuation, including the capability to program an initial attenuation state at power up. The 75 Ω RF DSA supports 1.8 V control voltage and has an extended operating temperature range of -40 °C to 105 °C.
Sampling now, PE4314 is offered in a 20-lead 4 x 4 x 0.85 mm QFN package and is slated to go into volume production in March. An evaluation kit is available for US $150. In 5k units, each PE4314 is priced at US $1.34.