A new series of programmable attenuators from Fairview Microwave covers broadband radio frequency (RF), microwave and mmWave frequencies ranging from DC to 40 GHz. They provide greater flexibility and programmability by allowing different values of RF signal attenuation on demand.
The new high-performance attenuators are available in TTL, USB or relay-controlled options and feature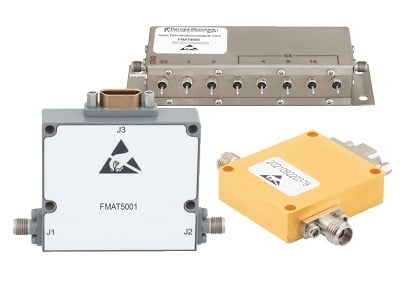 Source: Fairview Microwave switching speeds of 0.35 μsec and ± 0.7 dB attenuation accuracy. These devices are engineered for test and measurement, research and development, electronic warfare and electronic countermeasures applications.
Subminiature version A, N-Type and 2.92 mm female connector options are available with attenuation ranges from 31 dB to 95 dB with 0.5 dB and 1 dB step sizes.

Designed with compact, rugged, military-grade coaxial and an operational temperature range of -40° C to 85° C, these programmable attenuators are highly dependable in hazardous environmental conditions.