Foreseeing demand for high-definition digital TVs, set-top boxes and other media gadgets, European power semiconductor manufacturer Dialog Semiconductor has readied highly integrated power management ICs (PMICs) for smart TVs and STBs. Developed in partnership with TV system-on-chip (SoC) vendors, the new PMICs leverage Dialog's experience in developing configurable power management devices for smartphones and tablets.

According to Dialog, the power requirements of SoC devices in smart TVs and STBs are becoming more challenging as video processing technology advances. While the processors require highly efficient power supplies with dynamic voltage scaling and low ripple and noise, the SoCs must ensure improved picture stability. Besides delivering improved power supplies with enhanced performance and reliability, the new integrated PMICs also cut system cost and board space significantly.

In reality, there are two CMOS chips in a single 30-pin or 32-pin QFN package. The functions integrated in this package include DC/DC converters, LDOs, load switches, and all the necessary control logic and I2C interface. As a result, each PMIC will replace up to 130 discrete components typically found in modern TVs. Thus, cutting component cost and simplifying printed circuit board design and manufacturing.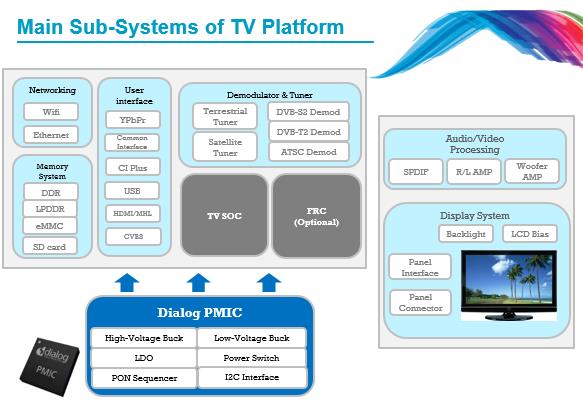 Single PMIC package includes DC/DC converters, LDOs, load switches, and all necessary control logic and I2C interface.

All voltage rails are programmable, supporting up to 10.5 A on each rail. The wide input voltage range of 7 V to 26 V allows the PMIC to work directly off the power adapter or power supply unit. By comparison to discrete components, the higher efficiency of the device delivers energy savings of up to 5 watts. In addition, it is designed to meet the global regulatory requirements of standby power dissipation, which is typically below 300 mW.

Dialog is currently sampling the PMICs (PV88060, PV88080, PV88090) for low to high-end smart TVs to major OEMs with plans to ramp up production in the second half of the year.