CES (the official name for what was previously called the Consumer Electronics Show) won't open its doors for two more days, but if you are a journalist reporting on the 3,600 exhibitor, 150,000-plus attendee confab in Las Vegas-- as I will be for Electronics360 this week--you arrive early because there are events scheduled that are exclusively available to the 1,200 media members who have come here to see what's new in consumer technology.
Adhering to the proverb "the early bird gets the worm" CES gives its smaller, less well known exhibitors a chance to steal a march on their competitors via a show-within-the-show preview called CES Unveiled, which is a "first look" open only to members of the press. This annual networking event features the CES 2016 Innovation Awards Honorees and tabletop displays from dozens of global tech companies.
Here are some of the gadgets and gizmos that caught this reporter's attention at Unveiled:
Withings took the wraps off Thermo, a Wi-Fi-connected thermometer that employs a 16-sensor IR array to measure temperature from the temporal artery at the side of head. Said to provide one of the fastest and most accurate non-invasive body temperature readings available, Thermo requires just a point in the direction of the artery, without requiring any motion or scanning, and its sensors take 4,000 measurements in 2 seconds while a proprietary algorithm automatically corrects for biases, such as skin heat loss and the ambient temperature. The hottest point is then determined to ensure the most accurate and reliable single temperature reading. Thermo can automatically send temperature readings to your smartphone on the dedicated application, via Wi-Fi or Bluetooth. It also allows users to provide contextual information associated with readings, such as logging symptoms or making notes of any administered medicines.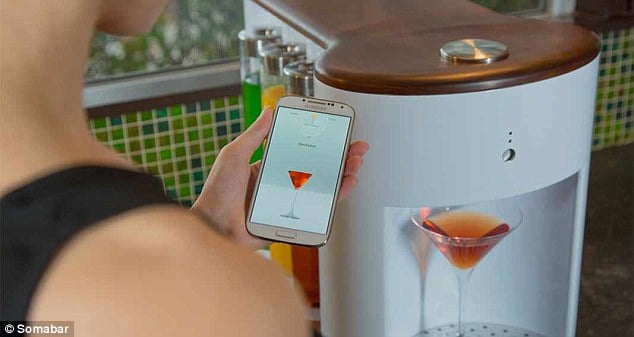 The Somabar robotic bartender.
You already have an automated coffee maker or espresso machine, so someone developing a robot-like bartender should perhaps not be a surprise. Recent Kickstarter alumi company Somabar is taking preorders on a Wi-Fi-connected smart bartender that the company claims is capable of making 300 different cocktails.
It works like this: You pour a mixer or spirit into an empty refillable (and according to the maker dishwasher-safe) 750ml "Soma pod" and plug each of these containers into the side of the machine. Somabar then electronically detects the ingredients and suggest any number of cocktail recipes. So if you add ginger beer and vodka, for example, the machine will give you a list to choose from (such as a Moscow Mule) and the Somabar will make the cocktail. Somabar is accepting preorders on its website for $429 and plans to ship the machines in July.
PanaCast 2 from Altia Systems is a plug-and-play 4K (3840 X 1080 pixels) video camera system that delivers a 180-degree panoramic video stream in real-time. Priced at $995, it addresses the two most significant roadblocks to implementation of a full AR (Augmented Reality) or VR (Virtual Reality) experience - visual distortion and latency – both of which can degrade user experience. PanaCast 2 uses multiple miniaturized high-resolution cameras to capture independent video streams and stitches them together in real time to produce 4K-quality video similar to how the human eye does it and without fisheye distortion. Image processing is said to be accomplished in less than 5ms, compared to the human brain's image processing time of up to 80ms. No time-consuming post processing is required.
The emergence of commercial drone-based photography—the unmanned craft carry a camera aloft to take still images or video of construction sites and agricultural projects among other applications —has resulted in a parallel demand for lightweight high quality cameras. The Zenmuse X5R presented at CES Unveiled is said to be the world's first Micro Four Thirds format aerial camera capable of recording lossless 4K videos in RAW format. With a frame rate of up to 30fps and 1.7Gbps average bitrate (2.4Gbps maximum bitrate), the X5R can take 16MP still images while an integrated 3-axis stabilization gimbal keeps the camera level.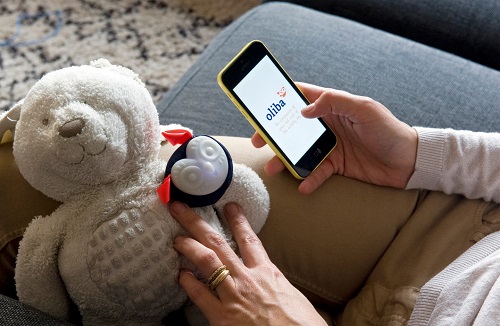 The Oliba cuddly toy tracker/storyteller.
Developed by Smarty Crew, Oliba is a connected smart owl, easy to fasten to any cuddly toy that can soothe children to sleep at night and keep an eye on the cuddly toy for parents so that they don't forget it while on the go (it has a 100 ft. range tracker). Oliba glows in the night and sings lullabies, acting as a buddy for children, giving them comfort against frightening nightmares and taming the monsters that live under the bed. Oliba is also a storyteller: parents can pick, in the App, the story they like or even record their own story with their voice. Once stored in Oliba, children can activate the latest saved story anytime with a long press on Oliba's face.
DIGIPAS USA announced its eGeeTouch Smart NFC/Fingerprint Luggage Lock. The TSA-accepted lock with smart identification embeds both semiconductor-biometric fingerprint and near-field communication (NFC) sensors, providing its users with a one-touch hassle-free experience. It works with Android (NFC mode) and iOS smart devices (Bluetooth mode) such as smartphones, sport bands etc. in conjunction with an App. Only one touch is needed to unlock your luggage using your preferred method, requiring no key, no digit-wheel dials and no code-memorizing to safeguard personal belongings.
Check this space all week for my CES reports on self-driving cars, drones, fitness and health wearables, as well as coverage of the keynote talks and special events at the show.