If you are looking to catch the latest glimpse of the "World of Tomorrow," there is no better place to do it than the Consumer Electronics Show, which recently concluded its 2016 run in Las Vegas. This 'World's Fair of Innovation' showcased the latest gadgets and gizmos from more than 3,800 companies occupying nearly 43 football field's worth of exhibit space. Over 170,000 people came to the town that gambling built to see new technology ranging from self driving cars to wearable health and fitness monitors to fast flying drones and numerous other things that simply made you stop and say "Wow".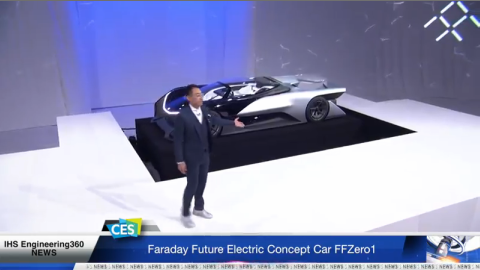 The World of Tomorrow - The Best of CES 2016
Here are a few that made our Best of CES list:
A new automaker rode into town at CES aiming to prove it's the fastest gun in the electric-car world. California-based Faraday Future debuted a sleek electric concept car dubbed FFZero1, claiming it can exceed 200mph and accelerate from zero to 60 mph in less than three seconds. The 1000 horsepower vehicle employs four motors and has already captured the nickname "Tesla Killer," in part because like Tesla CEO Elon Musk it is backed by a billionaire investor, China's Jia Yueting, ranked by Forbes as China's 17th richest man. Jia recently won $335 million worth of incentives from the state of Nevada to build a $1 billion manufacturing facility for the vehicle in a Las Vegas suburb.
Look, Up in the Sky…it's a Bird, it's a Plane…no, it's a 50 mile per hour fixed wing drone. To launch Parrot's Disco you just mount the wings to the body, start up the propeller, toss it in the air and watch as it climbs to cruising altitude. The drone connects via WiFi using either a joystick controller or the company's app, which allows you to plot out a flight plan which Disco will then automatically follow. Disco is said to be the first wing-shaped drone you can pilot without going through a learning process. Its autopilot and sensors permanently control its flight. There is no landing gear so landing is a soft, controlled crash. Parrot promises 45 minutes of flight on a single battery charge.
Here's one for you. If you think your automated coffee maker or espresso machine is cool, just take a look at this robot-like bartender capable of making 300 different cocktails. Called Somabar the Wi-Fi-connected smart bartender works like this: You pour a mixer or spirit into an empty refillable (and according to the maker dishwasher-safe) "Soma pod" and plug each of these containers into the side of the machine. Somabar then electronically detects the ingredients and suggest any number of cocktail recipes. So if you add ginger beer and vodka, for example, the machine will give you a list to choose from--such as a Moscow Mule--and the Somabar will make the cocktail. Somabar is accepting preorders on its website and plans to ship the machines in July.
Have your kids ever dropped their favorite small stuffed animal behind the couch? Of course they have. Developed by Smarty Crew, Oliba is a connected smart owl, easy to fasten to any cuddly toy so parents can locate the cuddly toy; it has a 100 ft. range tracker. It also sings lullabies to soothe children to sleep and glows in the night, acting as a buddy for children, taming the monsters that live under the bed or in a closet. Oliba is also a storyteller: parents can pick the story they like from the App or even record their own story. Once stored in Oliba, children can activate the latest saved story any time with a long press on Oliba's face.
In the "Look Ma, No Hands" category BMW demonstrated that its i3 urban electric car can get itself into and out of either a typical parking space or a standard one-car garage, without anyone in the vehicle. Using either BMW's i app or a Smart Watch like the Apple Watch or Samsung Gear Watch and a series of gestures the company's i3 can move out and park itself. In the future BMW says its i3 will be able to recognize the structural features of a multi-story car park and deal with unexpected obstacles, such as the jerk who parks his car across two spaces. Once the BMW i3 has successfully parked the vehicle locks itself and waits to be called by its owner via Smartwatch or voice command.
Altia Systems took the wraps off of a plug-and-play 4K video camera that delivers a 180-degree panoramic video streams in real-time. Called PanaCast 2 it addresses the two most significant roadblocks to implementation of a full Virtual Reality experience - visual distortion and latency, which is the amount of time between a controller input and when the VR picture actually updates. PanaCast 2 uses multiple, miniaturized high-resolution cameras to capture independent video streams and stitches them together in real time to produce 4K-quality video without fisheye distortion. Image processing is said to be accomplished in less than 5 milliseconds, compared to the human brain's image processing time of up to 80 milliseconds.
The TSA-accepted eGeeTouch Smart Luggage Lock from DIGIPAS embeds both biometric fingerprint and near-field communication sensors. In conjunction with an App it works with Android in NFC mode and Apple iOS devices in Bluetooth mode, including smartphones, sport bands etc. Only one touch is needed to lock or unlock your luggage using your preferred method, requiring no key, no digit-wheel dials and no code-memorizing to safeguard personal belongings.
Every year CES has more to offer than anyone could possibly digest in one week. We've given you a look at our favorites so that will be it for now from Las Vegas. Remember to catch more of the latest videos on the hottest consumer products and technologies by visiting the IHS Electronics360 multimedia page.