LED lighting is becoming the dominant lighting technology in the building and construction, transportation, and municipality market segments. Notable for their high efficiency and long lifetimes compared to incandescent and fluorescent lamps, LED lighting can save homeowners thousands of dollars and the government millions of dollars in electric power savings and lighting replacement costs.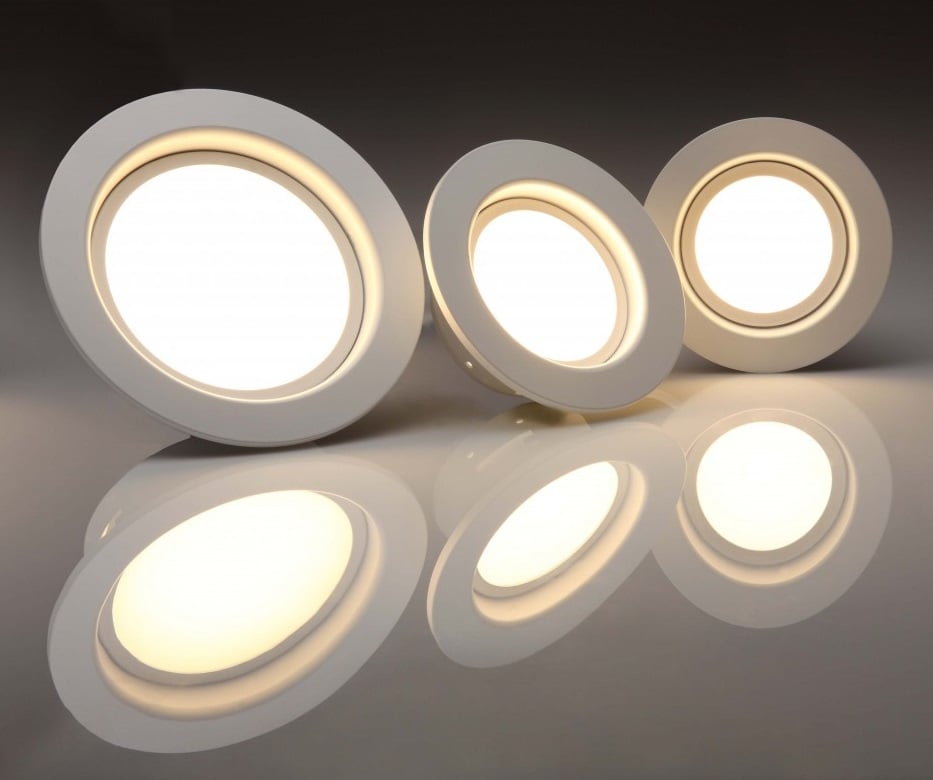 LED Lighting is increasingly being incorporated into new home construction.Over the past decade, many towns and cities have replaced traditional incandescent street lights and traffic lights with LEDs, realizing significant savings. Commercial building managers have come to appreciate the warmer color temperatures and longer life LEDs offer over fluorescent lamps without sacrificing efficiency. Over the past five years, builders have finally started incorporating LED lighting fixtures into new home construction. Even big-box retailers such as Home Depot and Lowes have started carrying affordable LED bulbs.
Now that the technology is gaining traction, some of its flaws are being exposed. One flaw that manufacturers are starting to address is color temperature. Whereas a few years ago LED lamps generally produced cold white light, now warmer whites are available. Another potential flaw of LED lamps is flicker. Flicker is a fluctuation of light output, a high frequency on-off strobing effect.
Flickering occurs with most lighting. A small but significant portion of the population is susceptible to flickering in the range of 10 to 70 Hz. Lights flickering in this range have been known to cause headaches, visual impairment and even epileptic seizures. Lights flickering in the 100 to 150 Hz range can be detected by the retina, though the effects of that frequency range are unclear and may be responsible for malaise and discomfort.
It is hard to find a lighting source that doesn't have some flicker. The AC power that comes out of our outlets has a frequency of 50 to 60 Hz and thus lighting can flicker in this range or double that frequency. Incandescent lamps are so inefficient that the effect is masked. Even when an incandescent lamp is turned off, the residual glow from the hot filament can mask the flicker creating a bright-less bright-bright effect rather than the more noticeable bright-dark-bright flicker pattern of the more efficient LEDs and fluorescent lights.
LEDs use DC current, so one would expect the flicker issue to disappear as AC is converted to DC. Unfortunately, cheaper drivers create a sort of pulsed DC that allows the flicker to persist. Using continuous current drivers with power correction components produces a stable DC current with power ripple suppression. This stable DC current produces flicker-free LED lighting. Of course, the tradeoff is cost. The cheaper the LED fixture or lamp, the less likely the driver will produce stable power for the LED, leading to flickering.
As with all new technologies, LED lighting is experiencing some setbacks. A few years ago LED lighting was experiencing similar growing pains with color temperature and addressed them. When the technology was used primarily for street lamps or traffic lights or flood lights, flicker was less of a concern. Now that homes and offices are transitioning to LED lighting, manufacturers will need to address ambient flicker.
Consumers will tolerate bright cold whites for street lamps, but inside their homes, they want a warmer color temperature similar to that produced by incandescent lamps. LED lighting manufacturers received the message and produced LED lamps with a variety of color temperatures such as bright white, warm white, and so forth. Now, these same manufacturers will have to examine the quality of the drivers contained within their lamps and fixtures to ensure that flicker is not an issue.
LED flicker may seem like a relatively small issue, but before a new product can achieve widespread adoption, it must be at least as good as the technology it's replacing. Incandescent lamps have been around for over a century with warm color temperatures and muted flicker. It is not enough that LED lamps just offer more efficiency. They must reproduce or improve upon the incandescent lighting experience. LED lighting manufacturers seem to understand this and are working to produce warm, flicker-free light from LEDs. As LED lighting prices continue to drop and quality continues to improve, the century run of the incandescent bulb increasingly looks like it is coming to an end.