Clean Strands, a Los Angeles, Calif.-based e-commerce company, has started selling what it calls eco-friendly 3-D printing filaments made of sustainable materials including recycled coffee grounds, harvested algae, discard wood chips, beer and a variety of other organic materials. The company has partnered with manufacturers such as 3D Fuel, 3Dom USA, Filamentum and BnK to provide homes, schools and businesses with the environmentally friendly 3-D printing filaments. The filaments come in more than 50 different colors and sizes and the company plans to add three additional filaments by year-end. The company is also partnering with research teams to launch other strands in the first half of 2016.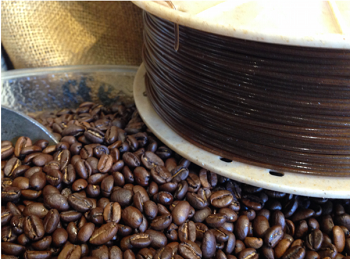 Clean Strands is making 3-D printing filaments out of recycled coffee beans as well as other organic materials. (Source: Clean Strands)
The idea for the filaments comes from the increasing awareness of the hazardous effects of petroleum-based filaments, such as ABS, which is leading to the rapid rise in the number of eco-friendly filaments, Clean Strands says.
Rachel Spieczny, president and founder of Clean Strands, says the idea for the filaments was born out of "frustration and the inability to find good quality, non-toxic filaments for 3D printing projects at home with my kids."
Speieczny says she wants the 3-D printing filaments to be as accessible as shopping for organic foods in a store or farmers market.