Researchers at the Singapore University of Technology and Design (SUTD) have grown a 3D-printable material that is cheap, lightweight and sustainable. The researchers were inspired by the wall structure of fungus-like oomycetes, which are reproduced by introducing small amounts of chitin between cellulose fibers. The resulting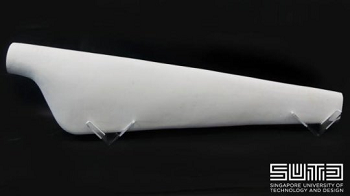 A 1.2-m long wind turbine blade was fabricated entirely with cellulose and chitosan. Source: SUTDfungal-like adhesive material (FLAM) can be molded or processed using woodworking techniques.
This material is manufactured without organic solvents or synthetic plastics, is scalable and can be reproduced anywhere without specialized facilities. FLAM is also fully biodegradable in natural conditions and outside composting facilities. The material cost is in the range of commodity plastics and 10 times lower than that of common filaments for 3D printing.
A large-scale 3D printing system developed for FLAM natural materials based on the Direct Ink Writing was used to 3D print a 1.2 m long wind turbine blade.
The technology based on unmodified and abundant compostable polymers, and requiring no cropland or forest resources, could accelerate a transition to environmentally benign manufacturing.
The research is published in the journal Scientific Reports.