3-D printing has been used for a variety of tasks from simple objects to building complex technologies. Now, researchers at Polytechnique Montréal have developed a method that combines carbon nanotubes and 3-D printing with thermoplastic to increase electrical conductivity in order to monitor liquids in real time.
The material looks like cloth but as soon as liquid comes in contact with it, the cloth is able to identify its nature. Researchers believe the development could be used in heavy industry, which quite often uses toxic liquids.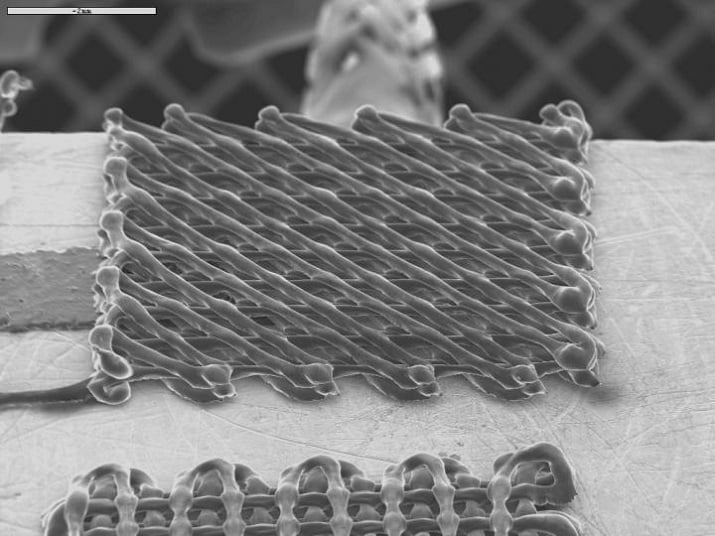 After printing the nanocomposite from the nozzle, a solvent evaporates and the ink solidifies taking the form of filaments that are slightly bigger than a hair. Source: Polytechnique Montréal The researchers took the thermoplastic, and, with a solvent, transformed it into a solution so that it becomes a liquid. The second step was to incorporate carbon nanotubes into the thermoplastic solution resulting in a black ink that's viscous and highly conductive. This black ink nanocomposite can then be 3-D printed from a nozzle. After the solvent evaporates, the ink solidifies and takes the form of filaments slightly bigger than a hair.
More manufacturing industries have adopted 3-D printing—including aviation, aerospace, robotics and medicine—because of the lightness of the parts; because plastic is substituted for metal; or because 3-D printing can be used for precise work at the microscopic level. The work by Polytechnique Montréal allows these nanocomposite filaments to be usable at room temperature with conductivities that are close to those of some metals. The geometry of these filaments can be calibrated to make it possible to read the various electric signatures of liquids that are to be monitored.
Researchers give an example of using this technology on pipelines where the connection points of the pipes would be coated by 3-D printing giving an electric signature to monitor the liquid being transported. If there is a leak and the liquid touches the printed sensors, it would alert workers in a targeted way to help prevent damages to the population or the environment.