NXP partnered with Zentri Inc. to develop a kit that helps designers get an Internet of Things (IoT) product to market quickly, while avoiding the pitfalls of other cloud connectivity solutions from the likes of Ayla Networks and Electric Imp.
The LPC43S67-A70CM Cloud Connectivity Kit combines the NXP LPC43S67 microcontroller, A7001CM secure element and NTAG I2C NFC, and a Murata SN8000 802.11b/g/n module with the Zentri Secure Connected Product Platform.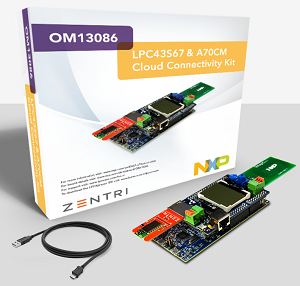 The LPC43S67-A70CM Cloud Connectivity Kit accelerates IoT device design by providing the connectivity, Wi-Fi stacks, secure data exchange, authentication and device commissioning, all while maintaining platform independence.
The kit is designed to simplify the effort and reduce the time needed to create and deploy secure, connected products, from vending machines and industrial automation, to washing machines and thermostats. It does so by providing the connectivity, Wi-Fi stacks, secure data exchange, authentication and device commissioning, all of which could keep a startup in "support mode" indefinitely once a product is launched, says Nick Dutton, VP of everything (except Cloud) at Zentri.
Zentri emerged from stealth mode 18 months ago (it was founded in 2013 as ACKme Networks and Sensors) and is led by a number of industry veterans, besides Dutton, who is ex-Roving Networks (bought by Microchip), Silicon Labs and Integration Associates. Its CTO is Jason Crawford, the developer of Broadcom's WICED line of connectivity solutions.
With expertise in hardware and software, and armed with its ZentriOS IoT operating system, Zentri is claiming to have what's needed, and just as importantly, not needed, to get to market fast.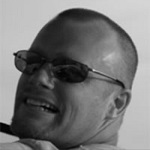 "We're like the iOS of IoT," said Nick Dutton, vice president at Zentri.
Confident as it may be, Zentri is entering a market already fogged with cloud connectivity options, ranging from startups such as Ayla, Electric Imp, ThingWorx, Exosite, and Xively, just to name a few, but also the "others," such as Microsoft, Apple and IBM.
One of the problems with opting for Ayla or Electric Imp, says Dutton, "Is that they own everything that goes to the cloud: Ayla can look at your [product] data - and sell it." A company has full access to their own data of course, but so does the cloud provider. A company is also tied to that cloud provider they use it: If it goes bust, that's a problem.
Another issue for a startup that might go to a company like Honeywell with a product idea, is that, "Honeywell may already be using Microsoft, they're not going to change for startup with data tied to [yet another startup]," he says.
This creates a conundrum for designers. The need to get to market fast will have to scale quickly if the product takes off, and the need to be able to move to the next idea or revision, quickly, versus being stuck having to support updates for connectivity stacks or worrying about device authentication and firmware updates in the field.
This is where Zentri believes it has a foothold. "Most startups are focused on data exchange, they provide statistics and analytics: but they don't provide security and over the air mechanisms to make sure you're talking to the right product," says Dutton. This authentication and security is one of Zentri's strengths.
That said, according to Sanjay Kalyanasundarm, Zentri's VP of Cloud (and ex-Blackberry), Zentri's solution is two-fold, split into Device Management Service (DMS) and Data Exchange Services (DES).
The DMS is a Zentri service that manages the devices in the field, with tasks ranging from securely provisioning the devices to updating the software reliably and providing an up-to-date inventory of the device fleet that is in market.
"The way we accomplish this is by using ZentriOS, an embedded secure connectivity OS that allows the DMS to manage the devices as soon as they become live," says Kalyanasundarm. "This is not something cloud providers (such as ThingWorx) will do and that happens to be a core focus for Zentri."
For data exchange, designers can use Zentri to collect and analyze product data, but they are not tied to Zentri. Instead, Zentri has architected the system in such a way that this data exchange element can run on a third-party cloud service, including ThingWorx.
This can be done in either of two ways: using a standard Internet connectivity capability (REST or WebSockets); or the DMS can provide cloud-to-cloud connectivity using Zentri's Cloud Connector, a thin service that sits on the ThingWorx cloud to speed up deployment. DES and DMS are offered as a tiered service.
So armed, the LPC43S67-A70CM Cloud Connectivity Kit is available now to help jumpstart all three key aspects of developing an IoT product:
Security and connectivity of the physical device, including secure cloud-based device management for provisioning and remote management
Developing applications for end users and connected users, and
Protocol-agnostic cloud connectivity to support the connected functionality and services.