Santa Clara, CA – Processor-core designer ARM is now going to be a cloud service provider. At this week's ARM TechCon event, it reinforced its Internet of Things (IoT) footprint by bringing connectivity, security and firmware update features under one roof with the SaaS-based solution it is calling mbed Cloud.
The Cambridge, England–based intellectual property (IP) firm is planning to unveil the mbed Cloud (release 1.0) in the first quarter of 2017.
But ARM will not be running its own data centers, at least for now. The software platform will allow IoT designers to register for the service for a fee and use a public cloud version of their choice: Azure, AWS, IBM BlueMix/Watson, and so forth. According to ARM's chief technologist, Mike Muller, "mbed Cloud is aimed at simplifying the coding effort, and is part of the education in the IoT learning curve."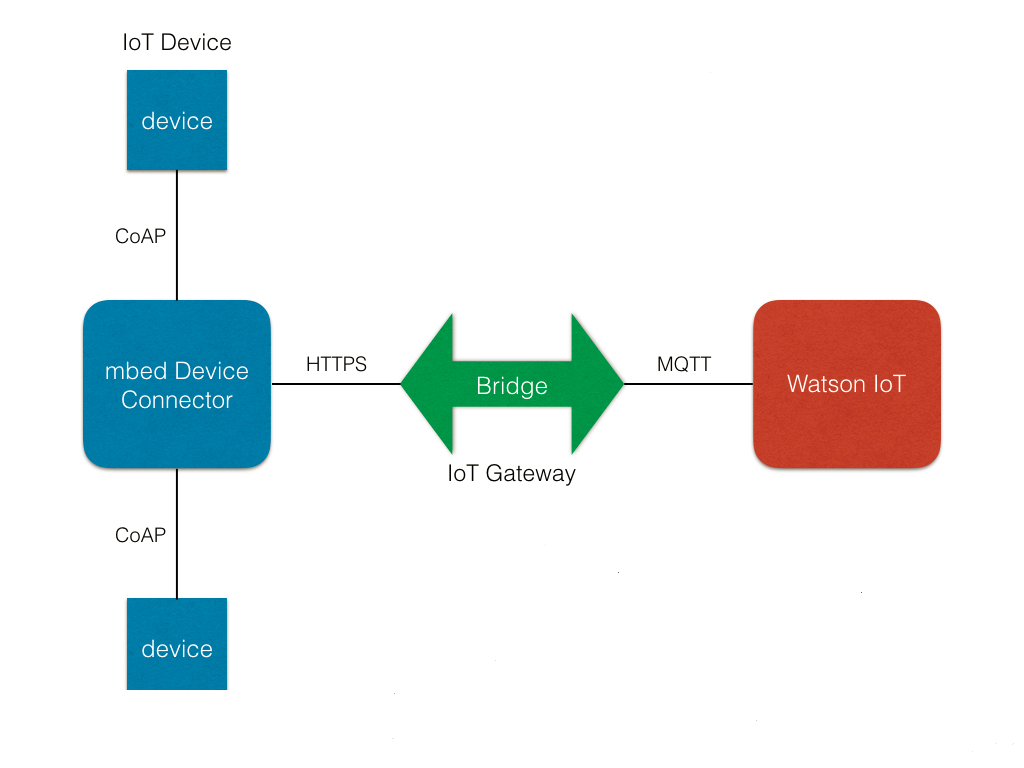 A closer look at the device-network-cloud value chain shows how an IoT device is connected to the IBM cloud server. (Image courtesy of IBM.)
The device management is going to be a key issue in the IoT world, especially when there are millions of devices involved and OEMs want to either scale their existing infrastructure or manage new device deployments in a flexible and secure manner. "Managing millions of IoT devices is a cumbersome task, and embed Cloud aims to automate that by employing software elements," added Muller.
These software elements, or mbed Cloud Clients, enable IoT devices to efficiently communicate with multiple data clouds—AWS, Azure and so forth—and they are available for multiple RTOS/OSes. What ARM is doing here is taking its mbed software platform to a new level for IoT devices while automating the cloud features.
ARM has also announced three mbed Cloud partners: Advantech, Toshiba and Zebra Technologies. Zebra Technologies' CTO Tom Bianculli said that his company will employ the mbed Cloud platform to migrate its machine-to-machine and other proprietary devices to the IoT environment.
mbed Cloud Offerings
For a start, mbed Cloud aims to simplify the connectivity options for IoT devices with modest power and bandwidth budgets regardless of the network stacks and configurations. It uses a caching mechanism to leverage the full potential of the energy-efficient ARM architecture for devices that are bandwidth- and power-constrained.
Second, mbed Cloud offers the provisioning features for authentication of IoT devices that are bound to access data from a multitude of sensors. Here, mbed Cloud establishes identity and trust level of IoT devices at different stages of their lifecycle. The chip-to-cloud solution will authenticate devices like gateways and other constrained IoT nodes that access sensor data, often in less-than-ideal conditions.
Also, at different stages of the product lifecycle, the IoT client devices require software and firmware upgrades. Firmware upgrades in the field are crucial to the operational efficiency of the IoT systems, so they have to be fail-safe and energy efficient in a myriad of network environments.
From Processor Cores to Cloud Service
For the keynote address during ARM TechCon, the company's CEO Simon Segars laid out his vision from tiny sensors to supercomputers. The mbed Cloud initiative, though a departure from ARM's traditional IP business model, clearly fits into the firm's larger IoT roadmap.
Here, it's worth noting that unlike Intel, which is touting its x86-based instruction set architecture (ISA) at both device and cloud server ends, ARM is agnostic when it comes to the hardware for server or cloud side of the IoT value chain. ARM managers maintain that mbed Cloud is an API-based platform primarily designed for managing IoT devices in a secure and efficient manner.
The software service targeted for IoT OEMs, ARM managers point out, will allow IoT developers to avoid connectivity- and device authentication-related hassles and focus on designing the right applications for their IoT offerings. Moreover mbed Cloud boasts a synergy with the mbed OS platform that has been developed for ARM Cortex®-M-based IoT devices.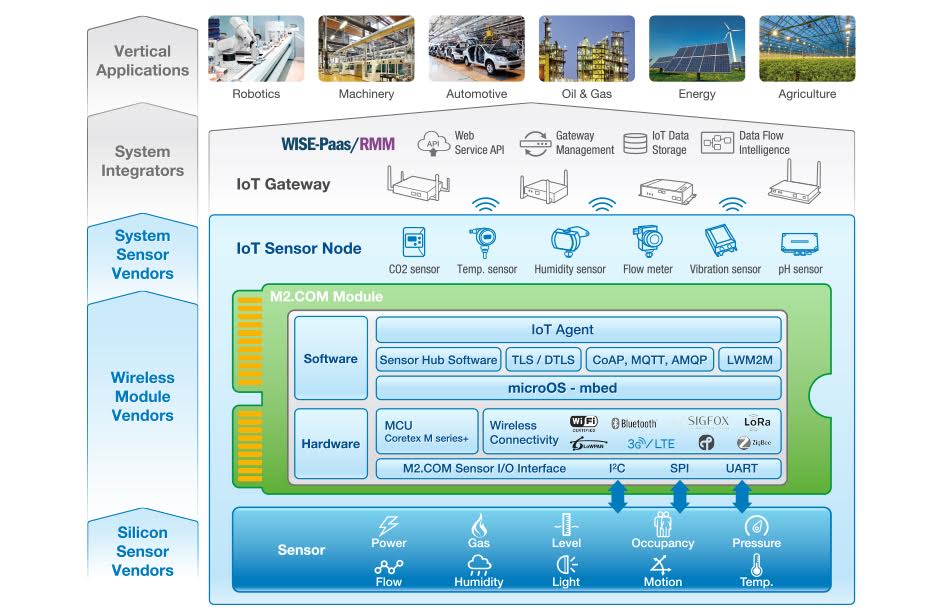 Advantech, whose IoT sensor node platform M2.COM has built-in ARM mbed OS, is implementing the mbed Cloud service. (Image source: Advantech)
The mbed OS platform combines an RTOS Kernel, common peripheral drivers, essential security elements, and a suite of connectivity stacks, such as Ethernet, BLE, Wi-Fi, LoRa and Thread. The mbed OS 5.2 version supports Wi-Fi System-on-Chips and modules, hardware entropy sources for greater security, and the ARM Cordio® BLE radio portfolio, and it is available now on mbed.com.
ARM claims that with the SaaS-based mbed Cloud service, IoT OEMs can enhance the use of mbed OS 5, which is supported by a community of 200,000 developers and is enjoying more than one million device builds per month.