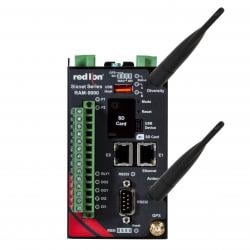 Red Lion adds MQTT Protocol Support. Image credit: Red Lion
Red Lion Controls has announced that their Sixnet® series RAM® industrial cellular RTUs now support the MQ Telemetry Transport (MQTT) protocol. MQTT is a machine-to-machine (M2M)/Internet of Things (IoT) protocol. It is designed for lightweight data transmission and is also a significant part of Industrial IoT communications.
According to Red Lion, the RAMQTT simplifies implementations with preconfigured profiles for many large companies. The drop-down menu allows customers to select the cloud platform they want. The RAM Software Development Kit allows connectivity to be enabled with additional platforms.
RAM products provide an event engine and integrated I/O database, which, according to Red Lion, streamlines creation and storage of data tags, as well as cloud integration and cellular connectivity. The cloud connectivity, reliable cellular communication and easy cloud support provides customers with a simple IIoT solution.
Find more information on this product here.