Four microengineering students from Ecole polytechnique fédérale de Lausanne (EPFL) invented a bicycle-borne system that can measure carbon monoxide and nitrogen dioxide levels in the air. The team's system operates using a sensor installed in the bike's light casing.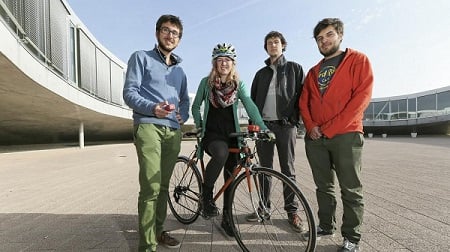 EPFL students create bicycle air quality measurement device. (Image: EPFL/ Alain Herzog)
The EPFL bike system, called BeMap (Bicycle Environmental Mapping), can gauge air pollution levels during the bike ride and then sends the data to a computer.
The students presented the idea at the international microengineering competition, iCan, this past summer in Alaska, where they came in second place.
The main idea behind BeMap is to help cyclists choose the route with the lowest level of vehicle exhaust. The team also wishes to put the air-pollution readings that are submitted by users into an open-source database and use the data for environmental mapping.
According to EPFL, during any given bike ride, 500 to 1,000 pollution readings could be taken and then uploaded in real time via Bluetooth.
BeMap's inventers have been in contact with OpenSense, a project designed to measure air quality through mobile monitoring to further develop the project. OpenSense has put sensors on trams and buses in Zurich and Lausanne for this purpose.
"With bicycles, we can go down narrow streets and reach other spots that are off limits to buses. The readings crowdsourced by BeMap will also help cover more ground," says Chloe Dickson, head of the BeMap project team.
BeMap is an open-source project, so everything needed to make and print the 3D casing is available online. The students are also considering marketing a ready-made device in the future.