OEMs have reason to be relatively optimistic about 2013. The New Year did not begin by the global economy falling off a fiscal cliff. Indeed, the U.S. and Asian economies seem to be gaining momentum. That's reflected in the global semiconductor industry's growth, which is likely to see modest single digit revenue growth of 6.4 percent compared to the 2.3 percent decline in 2012, according to IHS.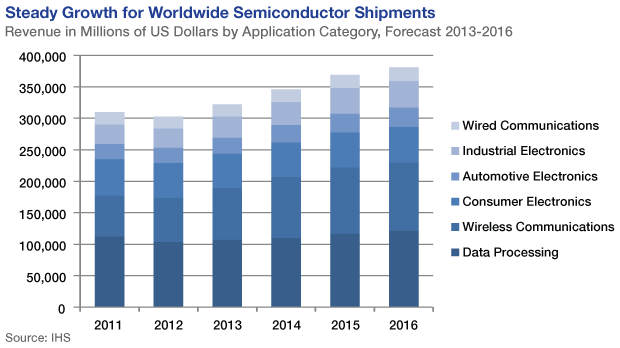 So what is the primary reason for the improvement in the semiconductor industry's prospects? According to industry analysts, it's mainly the economy.
No one should be surprised, said Dale Ford, head of electronics and semiconductor research for IHS. The health of the economy is the primary driver of revenue growth in both electronic equipment and semiconductor revenues, he explained, and last year consumers and businesses were being extremely cautious with their spending, conserving cash and extending the lifetime of their electronic products.
"What happens is that the effect of an economic slowdown is dramatically amplified as you go up the supply chain," said Ford. "If consumers scale back their purchases by, say, 2 percent, retailers scale back by 4 percent, factory equipment OEMs scale back by 8 percent, semiconductor revenues drop by 16 percent, and you ripple up to semiconductor equipment makers whose revenues plummet by 30-plus percent."
While 2013 will see some degree of the rising-tide-lifts-all-ships effect, the uptick in semiconductors is expected to be more uneven.
By far, said Ford, the strongest market in both the near and long term will be wireless, which is now dominated by both smartphones and media tablets. The key chips that will benefit include:
Logic applications processors as wireless device manufacturing requires a growing supply
Power-management ICs as consumers demand longer battery life
RF components as products utilize more radios
Image sensors as products are designed with multiple cameras
Mobile memory products such as mobile DRAM and NAND flash memory as memory requirements continue to increase
"The great thing about smartphones is there's such a broad array of semiconductor products that go into them," said Ford. When PCs ship, a much smaller group of semiconductor suppliers benefit, such as makers of microprocessors and core logic. And while people may think the architecture of the chips in tablets is similar to that of PCs and laptops, it isn't; tablets are more like large smartphones -- and so the smartphone component suppliers are benefitting as well.
"That's why Intel is having to make a major shift to take advantage of the media tablets because it can't just redeploy the products used for mobile PCs," said Ford. "This is a whole new world for Intel."
All eyes on ultrabooks
Indeed, if the next generation of PC – the ultralight notebook– is unable to meet the appropriate consumer price point, DRAMs, MPUs, logic chipsets and power management devices all will suffer, with potentially flat to only modest revenue growth, said Len Jelinek, director and chief analyst for semiconductor manufacturing at IHS.
The two IHS analysts expect to see continued mergers and acquisitions in 2013. For example, ST-Ericsson -- the joint venture between STMicroelectronics and Ericsson -- is up for sale and there are potential players who may want its wireless modem business, they said. One speculation is that Samsung, the world's largest handset manufacturer, may be interested in ST-Ericsson in order to strengthen control over its designs.
Other companies, such as Broadcom and Qualcomm, are perfect examples of companies that have been remaking themselves, as has NXP Semiconductors, which has been exiting certain businesses to focus on key markets.
"Those companies that are bringing a well-defined and specific focus to their markets are performing well regardless of size," said Ford. "Other companies that have broader portfolios, with the exception of Samsung, have had a much tougher time of it."
Ford advises OEMs to look at these broad-based suppliers and ask themselves what potential strategic moves these suppliers might make to keep themselves healthy. "Will they be shedding some businesses? Should the OEM be concerned?"
"You've already seen Texas Instruments talking about exiting a portion of the market in the wireless space," said Jelinek, "while Freescale Semiconductor continues to transition its product portfolio over to microcontrollers. The Japanese suppliers who are broad-based – and that's most of them – are facing extreme pressure to divest areas that aren't making money and have low-growth potential. Historically, that's discrete and standard analog-type products."
Indeed, devices that will be most challenged in 2013 include discrete components, which "will definitely underperform the market," Jelinek said, "while memory, especially DRAM, will have problems if we don't see a pickup in PCs. So far Microsoft's Windows 8 hasn't remedied that."
On the flip side, NAND presents the largest opportunity for growth in the memory arena driven by solid-state drives used in ultralight notebooks.
Another sector that ought to shine in 2013 is the communications companies that sell to the networking industry, said Dan Niles, chief investment officer at Alpha One Capital Partners.
Japan's Softbank is buying Sprint and intends to spend money to build out a third really big competitor. Deutsche Telecom has bought Metro PCS and intends to spend more money to grow the company. And AT&T says it's going to spend $22 billion in 2013, up from $19 billion in 2012, according to Niles. "So what you're seeing is an arms race that is starting to heat up in the telecom services space. Semiconductor companies that sell into that space should have a really good second half when all those mergers really start to spend."
Niles' advice to OEMs in 2013 is to take a careful look at your suppliers and think about who is going to be there to service you for the long run because there are quite a few companies with challenged balance sheets.
"Growth in your environment may continue to be somewhat anemic for the short-term," Niles said, "but even though things may be bad today, you could end up with a pretty strong demand scenario at the end of 2013."
He recommended OEMs make sure they have plenty of supply available – and that their vendors are financially strong. "Looking at their suppliers and thinking about the long-term is probably more important today than it was in 2012," Niles said.
Meanwhile, in a recent report entitled "A Look Into 2013 Semiconductor Themes," Doug Freedman, senior semiconductor analyst at RBC Capital Markets, provided advice to companies for successful strategies in the coming year.
"Companies need to be able to develop the technology that applies across a multitude of different end-markets," he said. "But, at the same time, when they find success with that technology, they need to be willing to customize it so that it can capture the high-volume vertical markets that demand and can use the technology."
Procurement professionals need to look for suppliers that are good at both, Freedman maintained. That is, they need to seek out suppliers that are generating technology that may not be custom for them, but are willing to partner to customize the solution to meet their growing demand so that they can produce something that's a differentiator.
"You need somebody that is horizontal but willing to be vertical to customize to your needs," he said.