The announced merger of Applied Materials Inc. and Tokyo Electron Limited (TEL)—is it a corporate marriage made in heaven or a blockbuster deal bound for the hell of antitrust litigation? The companies are two of the largest vendors of semiconductor production equipment and have competed against each other for years, primarily in the etch and deposition steps of chip manufacturing.
With fewer wafer fabrication facilities being built and equipped each year, it's a challenging economic environment for suppliers of semiconductor production equipment and related services.
The September 24 merger announcement quickly reverberated throughout the semiconductor equipment business, as it involves two of the three largest capital equipment vendors in the world. (ASML Holding NV is the other.) With this pending merger coming on the heels of Lam Research Corp.'s acquisition of Novellus Systems Inc. last year and the closing of ASML's acquisition of Cymer Inc. earlier this year, market observers are wondering whether the equipment industry will continue to consolidate, perhaps on a smaller scale.
This combination, structured as a stock-swap transaction valued at $9.39 billion, is being billed as "a merger of equals," yet Applied Materials shareholders will own about 68 percent of the combined company once the transaction closes, which is expected next year. Gary Dickerson, Applied's president and chief executive officer, will become CEO of the combined company, which will get a new name. Dickerson, a veteran executive who served as CEO of Varian Semiconductor Equipment Associates Inc. prior to that company's acquisition by Applied in 2011, will relocate to Tokyo to run the company from Japan.
"The semiconductor industry has been consolidating for many years," dating back to the industry downturn of 2000, said Len Jelinek, director and chief analyst of semiconductor manufacturing at IHS . "There are fewer and fewer facilities requiring equipment."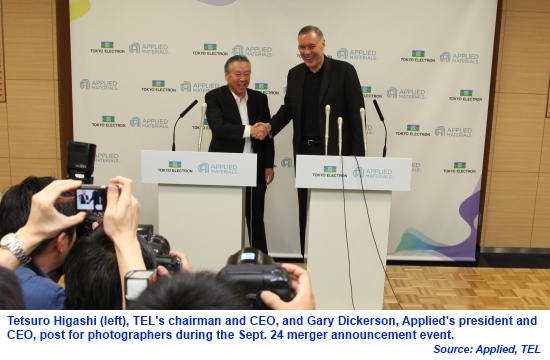 Five to 10 years ago, there were seven companies making memory chips. "Today, there are three," Jelinek said. "How many fabs are being built by these three players on an annual basis?" The answer is, not many.
In years past, seven to eight large wafer fabs were being put up each year. That number has fallen to an annual total of three, according to Jelinek. "Samsung isn't building large fabs, they're repurposing DRAM fabs," he said.
Intel is the only developer of fabs for logic devices, and the leading silicon foundries may put up one fab each year, Jelinek added.
The economic reality facing equipment vendors is a dwindling base of business opportunities. As separate companies, Applied and TEL are "two companies [that] would be fighting tooth and nail to get business," Jelinek said. "Can two players survive? Is the industry big enough for two players? One of them would succumb."
So, there are economic justifications for Applied and TEL to merge. Can the companies justify their combination without raising antitrust concerns by government authorities?
"It's not necessarily a monopoly – [but] a very large player," Jelinek says.
"They won't be dominating any of these existing markets to the point where I think it's going to be much of a hurdle," Angelo Zino, an analyst at S&P Capital IQ, told Bloomberg Businessweek. "In my view, the deal gets done, but it's definitely going to be a long process."
Timothy M. Arcuri, a managing director of Cowen & Co. in San Francisco, acknowledged that antitrust issues may emerge in the regulatory review process. In recognition of that possibility, the managements of both companies are prepared for a long period of review. "They're already padding the schedule," he said. He added that he believes the deal will close by the end of 2014.
"I'm bullish on the deal," Arcuri said; he has a "buy" rating on Applied's shares. "I've been bullish on Applied for more than six months. This is going to be a big company, as big as Texas Instruments, almost." Arcuri added that he has tremendous respect for Dickerson and Bob Halliday, Applied's senior vice president and chief financial officer.
At the same time, Arcuri said, the merger is "not without challenges." He added, "In the non-lithography part of the market, it's hard for you to grow. The customer base is consolidating rapidly."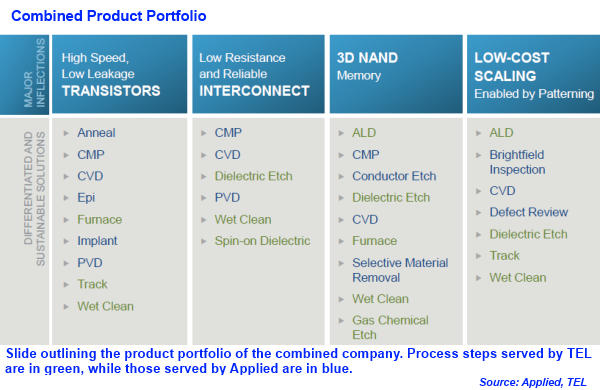 For equipment vendors to survive, "they're going to have to regain some pricing power," Arcuri said. "It only gets worse and worse with 450 millimeter. Maybe five [450-mm] fabs will be built."
Arcuri added, "In that battle for power, AMAT is making a power play." (AMAT is Applied's stock ticker symbol.)
"There is remarkably little overlap between the two companies, and so many other synergies," Arcuri said. If the antitrust reviews turn tough, "AMAT would jettison a few businesses to get this thing done," he predicted. In general, the deal represents "a very intelligent way to structure it," he added.
"Will customers complain? Sure," Arcuri said. "If you're Samsung, they're not particularly glad about this." On another hand, "if you care about 450 [millimeter wafers], this is good," he added.
There will be issues in merging an American company with a Japanese enterprise, according to Arcuri. One example is the acquisition of Verigy Ltd. by Advantest Corp. Verigy was officially based in Singapore, yet had significant operations in the United States, while Advantest is based in Tokyo. That combination "hasn't gone well because the U.S. guys are not in charge," he said.
But Acuri noted that plans in this case call for Dickerson to move to Japan. Once there, he may need to "get rid of large swathes of business," he said. "It's not easy to get rid of employees in Japan," Acuri said. "Gary and upper management will make it work."
Jelinek of IHS also recognizes the challenges ahead in the merger. "The company is not going to stay the same," he said. "The collateral challenges are going to be significant." Still, "there are opportunities for merging R&D and other job functions. That should benefit the industry."
The combined company "will have to be nimble and aggressive in order to survive," Jelinek said. "Both sides agree; there is a slow, painful erosion of both markets."
Bringing the companies together will be harder in Japan than in the U.S., according to Jelinek. The chip business in the U.S. is more volatile, he said. "The Japanese semiconductor industry has tried to hold on to legacy traditions," he said.
Can Applied and TEL pull off this merger? "It definitely can work," Jelinek said. "The key to success will be recognizing the strengths of TEL and Applied. Clearly, there will be duplication of effort; that's just a fact of business. You won't have two of everything."
He added, "There will be cost reductions for both companies." The combined company will be big, of course, but not big enough to set off antitrust alarms, according to Jelinek. "I don't think any region will stand in the way," he said of regulatory authorities around the world.
The combined company will also put more pressure on Lam, forcing it to be more competitive, Jelinek said.
"It's kind of like Intel and AMD," Jelinek said. "You're going to want smaller other competitors."
What it all comes down to is a kind of mathematical equation, according to Jelinek. "One plus one equals one," he said.
This global drama may take another year or so to conclude, at least before the transaction is completed. And then the play will begin again, as the management of the combined company starts making crucial corporate decisions about people and products.
Related stories: