Historically the PC has been a huge driver for DRAM demand — but no longer. This year, the growth rate for DRAM usage in PCs will slow to its lowest point since peaking six years ago, down for the second consecutive year to 17.4 percent in 2012 and way down from the high of 56.1 percent in 2007.
So what are the long-term implications for DRAM supply and demand, assuming that the trend continues?
According to Mike Howard, senior principal analyst for DRAM and memory at IHS, the "doom-and-gloom factor" isn't as dark as one might expect given that the mobile sector, led by smartphones and media tablets, is more than compensating for the lost PC usage, allowing demand to catch up to supply.
As a result, prices have climbed a bit these last three months, especially in the PC space where 4-gigabyte modules jumped from a low of $15 in November to $23 today. After some expected softening midyear, Howard is forecasting prices to rise even further during an undersupplied second half of the year. He points to three factors for the uptick in prices:
Industry consolidation from six to eight major players six years ago to essentially three suppliers: Samsung with 40 percent market share, SK Hynix with 25 percent and Micron Technology, which is expected to be in the 25-28 percent range after finalizing its purchase of Elpida Memory.
No one has built new DRAM fabs for several years now since the 2003-2005 overbuilding spurt.
The rate of organic DRAM growth on a wafer is slowing.
But if mobile demand continues to increase at the current rate, it's very likely that, in the next 24 months, there could be a DRAM shortage because DRAM has dropped considerably on the priority lists of chip makers, Howard said.
At Samsung, for example, DRAM is now the third priority behind system Large-Scale Integration (LSI) and NAND, two areas where the company has new capacity coming online and for which DRAM fab production could be potentially converted in order to run more system LSI or NAND.
And at SK Hynix, there are current capacity expansions in NAND where the overall wafer demand is positive — but none in DRAM.
"These last six years have been so painful in DRAM at times, there's a reluctance to forgo capital expenditures in those other two areas so as to benefit DRAM," said Howard.
Micron Technology's Brian Shirley, vice president of DRAM Solutions, concurred. "Moving forward, NAND will be taking on a much larger role here. We're seeing an insatiable demand for NAND because of the rise of solid state storage in smartphones, tablets, notebook computers and servers."
Meanwhile, despite smartphones and media tablets consuming less memory per unit than the average PC, Shirley observed that the number of mobile devices being sold makes the demand for mobile DRAM "pretty meaningful."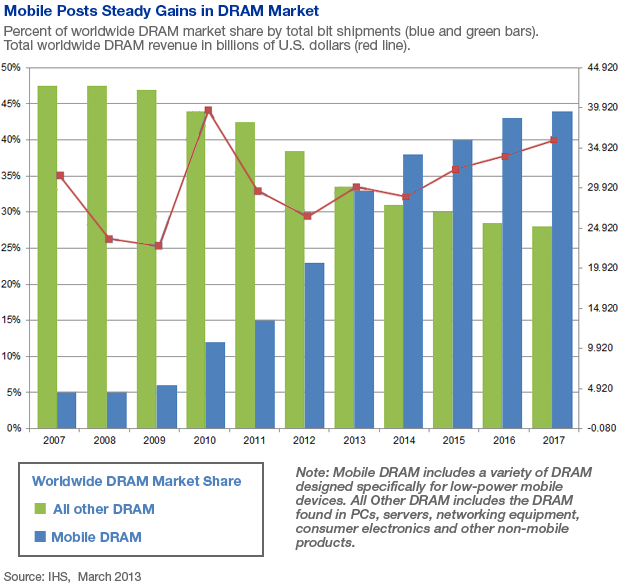 "Couple that with the DRAM demand on the server side," he added, "and what you see is that the overall DRAM market is balancing out a bit better than previously thought. We think that's something that will last for a while."
But whether the PC market's demand for DRAM takes a turn upward or continues its long, slow decline depends on two factors, said Dale Ford, vice president of electronics supply chain research at IHS.
Primarily it depends on the public's interest in the new PC platforms, especially in the ultrathin category with the Ultrabook and the MacBook Air, although the mobile PC market uses relatively less DRAM than does the desktop PC.
Also, it depends on the challenge that PC makers face in convincing IT managers they need to upgrade their platforms, Ford added.
"There's a large installed base of PCs out there that are four years and older and are working just fine," he said. "The players in the PC supply chain – from Intel to the PC OEMs – need to show IT managers they are missing out on some important benefits by not transitioning to a new platform. It's not enough to say that processor runs X percent faster or that you can boot up faster. They have to demonstrate valuable new capabilities. That isn't easy and, frankly, I haven't seen much evidence of them being able to do that recently."
Unless that happens, Ford predicts that desktop PCs, mobile PCs, servers and upgrade modules for PCs will account for just under 40 percent of DRAM revenue in 2014, down from 53 percent this year. On a revenue basis, DRAMs utilized by the PC space will drop to $11.5 billion from $13.9 billion in those same years.
"Of course, if the PC markets get notably weaker, things will become even more problematic," Ford said. "You'll have a supply-demand imbalance that will bring economic forces into play with softer pricing placing pressure on the profitability of the product." As a result, manufacturers will need to ramp down production to keep inventories in line.
At the same time, he said, handsets and tablets will grow by 8 percent to $2.2 billion this year and by 28 percent to $8 billion in 2014.
Ford's best advice to OEMs is to take advantage of the opportunity for managing the profitability of the platform. In the past, he said, softer pricing has prompted OEMs to install more memory to keep prices up. But, in this case, "since there doesn't appear to be any application screaming for more memory," OEMs that are out to try and take advantage of the softer pricing environment could negotiate to save on memory costs.
Meanwhile, Howard has this advice for DRAM procurement professionals: build the best relationships you can with your sources, and negotiate prices for the long term.
"You used to be able to play one supplier against the other," he said, "but now we're down to just three major players. DRAM used to be a really dirty business, especially in PCs, because it didn't matter where you got the product. It was easy to switch out suppliers at the last second. But things can get tight now and prices can creep up. You need to treat those vendors the way you'd like to be treated yourself."