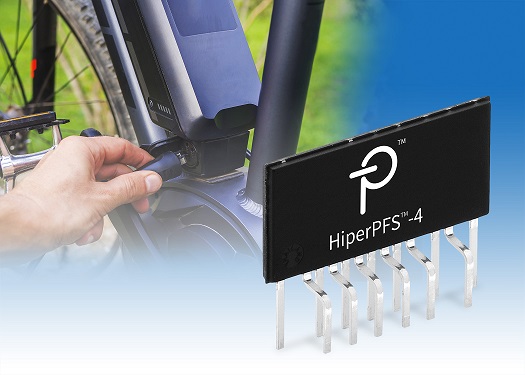 There is great temptation to conclude that nothing notable outside of SiC and GaN occurred at last week's annual session of APEC. But any such assessment would be grossly misleading. Take, for example, Power Integrations announcing its HiperPFS-4 family of power factor correction (PFC) ICs. The new device family serves applications targeting enhanced efficiency and power factor performance at both full load and light load conditions.
HiperPFS-4 devices incorporate a 600 V MOSFET suitable for 305 VAC input and a variable frequency CCM PFC controller in a single, compact, electrically isolated, heat-sinkable package. The IC family delivers high power factor (above 0.95), low THD and the benefits afforded by its frequency-sliding control technology result in high efficiency across a wide output load range—even at 20% of rated load—allowing OEMs to meet demanding 80 PLUS Platinum and Titanium power supply standards.
According to the company, the devices also meet the stringent surge requirements of computer and entertainment equipment providers, such as the one second 410 VAC input test, which ensures field reliability and robustness against voltage swells and surges.
The new HiperPFS-4 ICs suite enclosed designs up to 300 W, open frame power supplies of up to 400 W and highline applications up to 550 W. Protection features include UVLO, UV, OV, OTP, brown-in/out, cycle-by-cycle current limit and power limit. The 600 V integrated power MOSFET and the protection features make the IC family well worth considering for use in regions where input voltage fluctuations can be severe.
Power Integrations reports that HiperPFS-4 ICs consume less than 60 mW at 230 VAC while regulating output at no-load and less than 20 mW in sleep mode.
HiperPFS-4 devices are targeting data centers and commercial LED lighting. Other applications include refrigerators (which increasingly contain high PFC specification requirements), cordless tool chargers and eBike battery chargers (see image above).
Available for high and low line applications, HiperPFS-4 ICs are available in thermally-efficient eeSIP packaging, which simplifies heatsink mounting. Devices cost $1.46 in 10,000-piece quantities.