Worldwide semiconductor revenue rose by 5.0 percent in 2013 to reach $318.1 billion, up from $303.1 billion in 2012 and reversing the previous year's 2.4 percent annual decline, according to research from IHS Technologies, the publisher of Electronics 360.
The top 25 chip companies saw their market share increase to 70.8 percent of the total, from about 69 percent in 2012, as the small chip companies saw their aggregate revenue decline, the research shows.
Memory chip sales – NAND and DRAM – in particular were the key drivers of growth in the semiconductor industry in 2013 as average selling prices moved up.
"Dynamic random access memory (DRAM) showed the strongest expansion among major memory segments, with revenue surging by 32.5 percent as suppliers were able to achieve a balance between supply and demand that yielded lucrative pricing for parts. NAND flash also posted a strong year – at 24.2 percent growth – as demand for the memory from smartphones and tablets continued to rise," said Dale Ford, vice president at IHS Technology.
These findings are contained in the report, "DRAM and NAND in Wireless Propel Global Semiconductor Growth in 2013," from the IHS Semiconductors and Components service.
The latest data confirms the preliminary data given in December 2013 (see Semiconductor Sales Recover in 2013) with minor corrections and provides detail of the top 25 chip companies, not including foundries.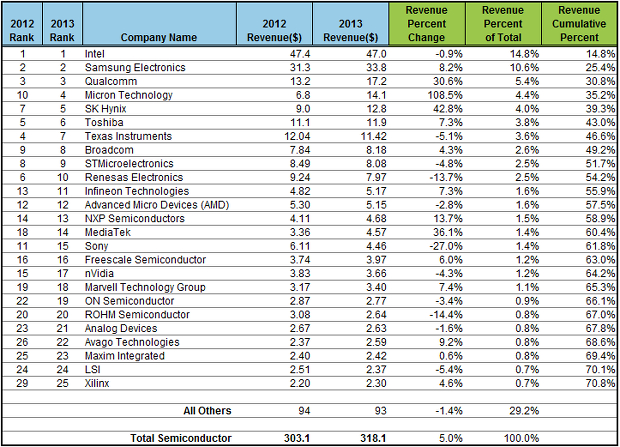 Worldwide ranking of top 25 chip suppliers in 2013 (in billions of US dollars). Source: IHS Technology.
With the tail wind of rising ASPs and its acquisition of Elpida Memory, Micron Technology Inc. more than doubled company revenue propelling Micron to No. 4, up from tenth place in 2012. For its part, South Korea's SK Hynix ascended from seventh place to No. 5 on the strength of 42.8 percent organic growth. All told, memory suppliers accounted for three of the top five slots in 2013.
Qualcomm and MediaTek were the other major successes of 2013 among the top 25, owing to their market-leading performance in chips for smartphones. Qualcomm maintained the No. 3 position with 30.6 percent growth, while MediaTek rose to No. 14 with a 36.1 percent increase.
In contrast to the high flyers, Japanese chip companies struggled the most during 2013. Renesas Electronics, Sony and Rohm Semiconductor saw revenues fall by 13.7, 27.0 and 14.4 percent, respectively.
Semiconductor suppliers headquartered in Asia-Pacific saw their combined revenue grow 14.7 percent, allowing them to capture 25.3 percent of the chip market – the largest share ever for the region. For the first time, Asia-Pacific accounted for over a quarter of the worldwide semiconductor market. For companies headquartered in the Americas, collective revenue also grew strongly, up 8.7 percent, translating into 52.4 percent of total industry takings. Meanwhile, Japan continues to be mired in a slump, with chip revenue for the area declining a steep 17.9 percent.
In terms of product category small-signal field-effect transistors (FET) jumped 21.3 percent; logic application-specific standard products (ASSP) for wireless communications grew 15.3 percent; and analog ASSPs also for wireless rose 13.5 percent. Meanwhile, automotive logic ASSPs expanded 14.0 percent, while automotive analog application specific ICs (ASSPs and ASICs) climbed 8.1 percent. Microcontrollers (MCU) for smart cards and IC cards were up 12.5 percent on the year. Other notable segments in 2013 were the wireless communications markets, thanks to 13.1 percent growth; industrial electronics, up 9.4 percent; and automotive electronics, rising 5.7 percent.
Related links and articles:
DRAM and NAND in Wireless Propel Global Semiconductor Growth in 2013
News articles:
Semiconductor Sales Recover in 2013
Industrial Chip Market to Grow 11% in 2014