Xilinx Inc. says it has shipped its first 16 nanometer (nm) multiprocessor system on a chip (MPSoC) one quarter ahead of its original schedule.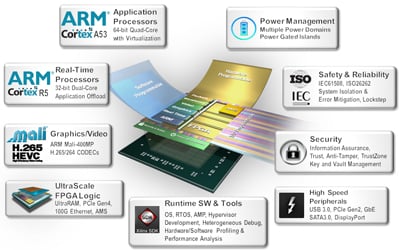 Source: XilinxThe early release of the Zynq UltraScale+ MPSoC was built using Taiwan Semiconductor Manufacturing Corp.'s (TSMC) 16nm FinFET+ process designed for next-generation embedded vision, advanced driving assist systems (ADAS), Internet of Things (IoT) and communications systems. Xilinx claims the 16nm MPSoC provides five times system-level performance/watt and any-to-any connectivity with the security and safety required for next-generation systems.
Dr. BJ Woo, VP of business development at TSMC, says in a statement that the ongoing collaboration with Xilinx has resulted in the early shipment of the MPSoC device. He says the device features a lower power consumption and high level of system integration among current programmable logic devices.
Initial products are being shipped now with general sampling beginning in the first quarter of 2016.
Just a few months ago, Xilinx announced it had completed its design of the 16nm FinFET MPSoC with the initial target for the device to go out to customers in the fourth quarter of this year.
Questions or comments on this story? Contact engineering360editors@ihs.com
Related links:
IHS Semiconductors and Components
News articles:
Xilinx Adds Error Correction IP to Its Portfolio
Xilinx Provides Early Access Tools for 16nm MPSoCs
Xilinx Completes 16nm FinFET Multiprocessor SoC Design