In an effort to prepare customers for the coming wave of 16 nanometer (nm) UltraScale+ multiprocessor system-on-chips (MPSoCs), Xilinx Inc. has made available early access support to a design suite and software development kit (SDK).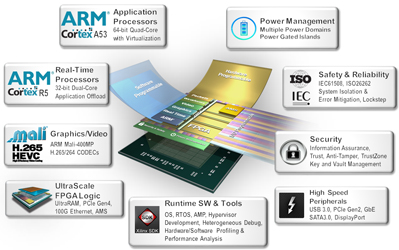 Xilinx's Zynq UltraScale+ MPSoC. Source: XilinxXilinx recently announced that it had completed the chip design for its 16nm Zynq MPSoC that would include seven programmable processors such as a quad-core 64-bit ARM Cortex-A53 application processing unit (APU), a dual-core 32-bit ARM Cortex real-time processing unit (RTPU) and ARM Mali-499 graphics processing unit (GPU).
The Vivado design suite is co-optimized for UltraScale+ ASIC-class programmable logic in order to prepare customers for production of UltraScale+ devices using Xilinx's SmartCORE and LogiCORE intellectual property (IP), the San Jose-based company says.
The SDK provides tools for developing and debugging software application in the MPSoC processor subsystem, as well as allows engineers the ability to start working on a scalable emulation platform in advance of the 16nm chips being released.
Questions or comments on this story? Contact engineering360editors@ihs.com
Related links: