Mouser Electronics is now stocking the C2000 Delfino F28377S LaunchPad evaluation kit from Texas Instruments (TI). The rapid prototyping kit for TI's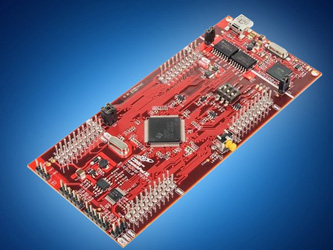 The F28377S LaunchPad evaluation kit targets high-performance control systems in digital power, solar, motor control, and industrial drives applications. Source: Mouser ElectronicsC2000 Delfino F2837xS portfolio of MCUs offers 200 MHz of 32-bit floating-point performance, integrated accelerators and high-integrity analog and control peripherals. The kit is compatible with TI BoosterPack plug-in modules—including the Digital Power BoosterPack—and offers a variety of software support.
The F28377S LaunchPad kit is based on the C2000 Delfino TMS320F28377S MCU that provides 400 MIPS of total system performance between a 200MHz C28x CPU and a 200MHz real-time control co-processor (CLA). The MCU contains 1 MByte of on-board flash and 164 kBytes of RAM, and includes highly differentiated peripherals such as 16-bit/12-bit analog-to-digital converters (ADCs), comparators and 12-bit digital-to-analog converters (DACs).
The C2000 Delfino F28377S LaunchPad board includes an integrated isolated XDS100v2 JTAG emulator for easy programming and debugging, and a USB interface provides a UART serial connection from the F2837xS device to the host PC. To allow for rapid prototyping, the kit also features two 40-pin headers that match the BoosterPack ecosystem.
The evaluation kit includes the LAUNCHXL-F28377S LaunchPad evaluation board, a micro USB cable and a quick start guide. The C2000 Delfino LaunchPad dramatically reduces the barriers of entry for development of high-performance control systems in digital power, solar, motor control and industrial drives applications.
Related Links:
http://www.mouser.com/new/Texas-Instruments/ti-launchxl-f28377s/