New Yorker Electronics has released Innodisk's 96-layer 3D NAND flash product lineup, delivering advanced new flash storage technology to demanding industrial applications worldwide. The series includes two models: 3TE7 and 3TG6-P, with the former being dynamic random-access memory (DRAM)-less and the latter using an external DRAM chip and a Marvell controller.
Both devices use pure industrial-grade 3D TLC NAND from Toshiba with a rated program-erase (P/E) cycle number of 3,000, ensuring lasting endurance as required by many embedded applications. The firmware is optimized for industrial use. The solid state drives (SSDs) strictly avoid single-level cell caching to avoid performance drops and increased write amplification that lower P/E cycle numbers through excessive data transfers within the SSD. This series is designed to tackle the tough conditions seen in many embedded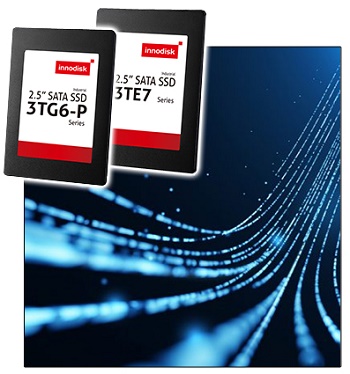 Source: New Yorker Electronicsenvironments and to handle the challenges of edge computing.
The Innodisk 2.5-inch SATA SSD 3TE7 is a serial advanced technology attachment (SATA) III 6.0 Gb/s flash-based disk that adopts the latest SATA III NAND controller with Innodisk's exclusive L³FW architecture which combines Innodisk signature 4K mapping algorithm L² FW architecture with powerful low-density parity-check technology. This ensures the 3TE7 series has outstanding high input/output operations per second, improved data integrity and extended lifespan through reducing the bad block number happening. A built-in thermal sensor and iData Guard assures data integrity and reliability of the SATA SSD 3TE7 for industrial applications.
The Innodisk 2.5-inch SATA SSD 3TG6-P is a SATA III 6 Gb/s solid state disk, which delivers top performance especially in random data transfer rate. Its reliability makes it ideal for embedded systems, industrial computing and enterprise fields.
The modules can incorporate AES encryption for data security and end-to-end data path protection to ensure error correction at every point of data transfer. The modules can also be fitted with Innodisk's trio of power stabilizing technologies iCell™, iPower Guard™ and iData Guard™ to further strengthen data integrity in areas susceptible to power fluctuations.