Intel Corp. has rolled out a new series of solid state drives (SSDs) for high performance and low latency in the data center.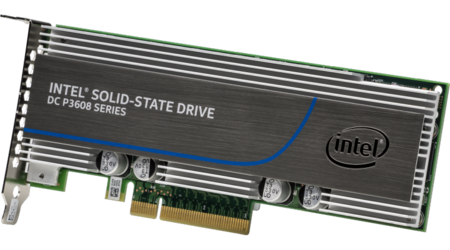 Intel's new SSD series is designed to eliminate bottlenecks in data centers
The SSD DC P3608 series features eight lanes of PCIe 3.0 to eliminate bottlenecks in the HPC workflows, accelerates databases and gain insights through real-time analytics, the company says. The SSD scales with Intel's Xeon processors with multiple cores for evenly distributing the I/O of up to 850K random read IOPS while the PCIe 3.0 x8 link enables data transfers of 5GB/sec.
The SSD series is available in capacities of 1.6TB, 3.2TB and 4TB in a single PCIe 3.0 x8 low-profile add-in card.
Questions or comments on this story? Contact engineering360editors@ihs.com
Related links:
IHS Compute, Servers & Storage
News articles:
Seagate Develops 2TB HDD for Mobile Devices
SATA SSD for Industrial and Defense Applications Introduced by Microsemi
Seagate and Micron Alliance Yields First SSD
SSD Manufacturers Will Not Be Threatened by 3D XPoint Storage…Yet