Intel Corp. will collaborate with CSIRO, Australia's national science agency, to investigate honey bee health in an effort to better secure global food supply. Intel will offer its Edison Breakout Board Kit, which is the size of a postage stamp, to CSIRO. The board will be placed inside beehives to monitor bee activity via radio frequency identification (RFID) tags. Those tags will be placed on the bees' backs.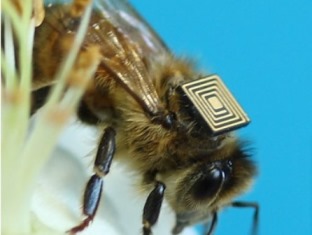 Intel will provide a breakout board kit to monitor beehive activity. According to CSIRO, honey bees are essential for pollinating about one-third of the food we eat—from fruit, to vegetables, to oils, to seeds, to nuts. Bee health and their ability to pollinate crops are under threat. CSIRO says honey bee colonies around the world have been on the decline in recent years without a firm cause being identified. The Global Initiative for Honey Bee Health (GIHH) was established to collaborate with researchers, beekeepers, farmers, industry and technology companies to better understand bee colony collapse and find solutions.
Intel's sensors work similar to vehicle e-tags, recording when the insect passes the device as a checkpoint. Data captured by the RFID tag reader, along with environmental sensors, provide information to beekeepers, primary producers, industry groups and governments on honey bee behavior.
Questions or comments on this story? Contact engineering360editors@ihs.com
Related links:
IHS Semiconductors & Components
News articles:
Intel Expands Internet of Things Developer Program
Intel Bringing Xeon Processors to Notebooks
Microchip and Intel Collaborate on Enhanced IoT Privacy and Security