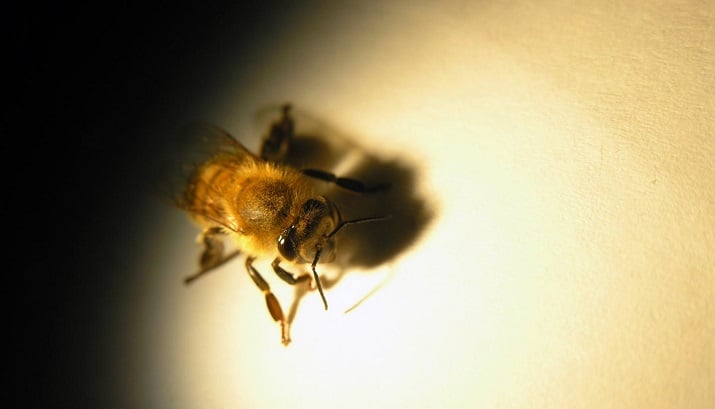 Studying honey bee vision may potentially improve the work to enable robotic vision. Image credit: University of Adelaide
Scientific experiments into the vision of honey bees has been studied for more than 100 years but new research suggests that not only is honey bee vision better than what was previously thought, the knowledge gained in studying the insects could be translated to better vision in robots.
The research comes from the University of Adelaide in Australia where scientists performed "eye tests" on western honey bees to determine the resolution of bee eyesight as well as how far away a bee can see an object, even if it is not clear.
The research involved taking electrophysiological recordings of the neural responses in bee's photoreceptors—the part of the eye that detects light in the retina of the bee that registers a neural response.
Researchers found at the front part of the eye, where resolution is maximized, bees can clearly see objects the width of a thumb when an arm is stretched out. This equates to about 30 percent better eyesight than had been previously recorded, says Dr. Elisa Rigosi, postdoctoral researcher in Adelaide Medical School. The smallest object that a bee can detect equates to one-third of a thumb width at arm's length—five times smaller than what has been detected in previous experiments.
"These new results suggest that bees have the chance to see a potential predator, and thus escape, far earlier than what we previously thought, or perceive landmarks in the environment better than we expected, which is useful for navigation and thus for survival," Rigosi says.
In addition to the research yielding a better understanding of how bees interact with their environment, University of Adelaide researchers say it could have greater reach in the field of robotics, specifically robot vision. As robotic research continues on a variety of fronts, bio-inspired robots show much promise and with bee vision it could lead to potentially new applications on how these robots see and interact in the world.