Engineers have been making strides in the field of robotics—with the help of some animals. Over the years, robotic advancements have been based on the biology and behavior of animals such as cockroaches, octopi, birds, moths and even rat whiskers.

Now, scientists at the University of Sheffield have created a computer model of how bees avoid hitting walls, which could revolutionize the development of autonomous robots.

The researchers built their computer model to look at how bees use their vision to detect the movement of the world around them to avoid crashes.
How do bees do it?
Bees control their flight using the speed of motion, also called optic flow, of the visual world around them. It is not entirely clear how they manage to do this because the only neural circuits so far found in the insect brain can tell the direction of motion, but not the speed.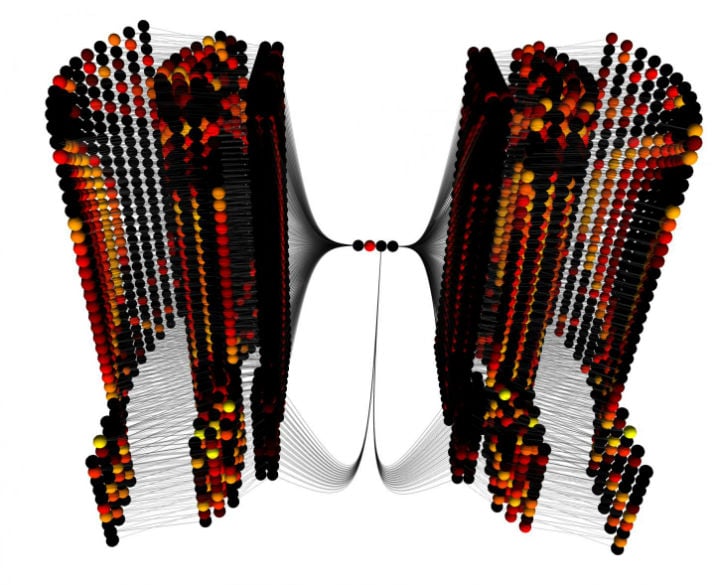 The model taken at one time-point while running. The left and right of the image are the inputs to the model and the center is the output, which is used to guide the virtual bee down a simulated corridor. (Image via The University of Sheffield)

Their study suggests that motion-direction detecting circuits could be wired together to also detect motion-speed, a critical aspect of controlling bee flight.

"Honeybees are excellent navigators and explorers, using vision extensively in these tasks, despite having a brain of only one million neurons," said Dr. Cope, lead researcher on the paper.

In understanding how bees actually avoid walls, as well as the information they use to navigate, researchers are one step closer to developing efficient algorithms for navigation and routing, which would have a major impact on the performance of autonomous flying robots.

"This is the reason why bees are confused by windows; since they are transparent they generate hardly any optic flow as bees approach them," said Professor James Marshall, lead investigator on the project.

The team will now use this research to investigate how bees understand which direction they are pointing in and use this knowledge to solve tasks.