Silicon Labs claims that its new microcontroller (MCU) family delivers the highest analog performance and peripheral integration in the 8-bit market. The EFM8LB1 Laser Bee MCU, the newest member of the EFM8 MCU portfolio, combines a high-speed analog-to-digital converter (ADC), multiple digital-to-analog converters (DACs), highly accurate temperature sensor, two comparators and a 72 MHz 8051 core with 64 kB of flash.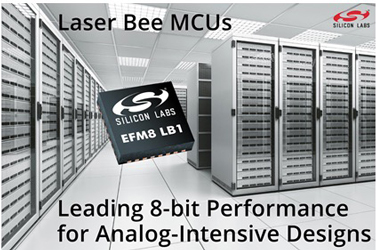 New MCU family targets 8-bit market with high analog performance and peripheral integrationThe device is housed in a tiny 3 mm x 3 mm QFN package, targets space-constrained and performance intensive applications such as optical modules, test and measurement instrumentation, industrial control equipment and smart sensors. Optical module telecom and data communications applications require small-form-factor MCUs offering analog performance and integration that eliminates external analog components, reducing the overall system bill of materials cost and PCB space.
The Laser Bee MCU's on-chip 14-bit, 900 ksps ADC includes an input sequencer and direct memory access (DMA) controller, enabling raw data collection with no MCU intervention. The MCU's 72 MHz pipelined 8051-based 8-bit core can execute more than 70% of instructions in one to two clock cycles for computationally intensive applications.
EFM8LB1 MCUs integrate four configurable logic units (CLUs), so that designers can implement combinational logic and/or synchronizers without external components. Each CLU is programmable, for easier interface of the Laser Bee MCUs with other chips.
Silicon Labs simplifies 8-bit development with native support for EFM8LB1 Laser Bee MCUs within the Simplicity Studio platform that includes an Eclipse-based integrated development environment (IDE), graphical configuration tools, energy profiling tools, network analysis tools, demos, software examples, documentation, technical support and community forums.
Samples and production quantities of the EFM8LB1 Laser Bee MCUs are currently available. EFM8LB1 product pricing in 10,000-unit quantities begins at $0.52 and varies depending on peripheral features, amount of RAM and flash memory.
To contact the author of this article, email engineering360editors@ihs.com
Related Links: