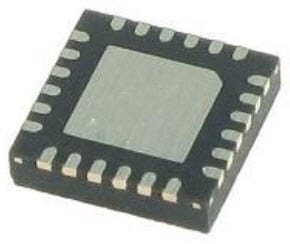 Source: Mouser
Mouser Electronics is now stocking the CPT212B and CPT213B TouchXpress capacitive touch controllers from Silicon Labs. The CPT212B and CPT213B TouchXpress controllers eliminate time-consuming firmware development, providing a turnkey solution for adding touch-based design to a wide range of products like home appliances, medical equipment, consumer electronics, instrument and control panels and lighting control.
The Silicon Labs CPT212B and CPT213B TouchXpress controllers allow design engineers to add low-power capacitive touch interfaces to embedded designs. The CPT212B device features up to 12 sensor inputs and ultra-low power operation. It is rated at 200 μA in optimized active mode and 1 μA in sleep mode. The CPT213B device offers up to 13 sensor inputs and adds IEC 607230 Class B safety library support, designed for preventing unsafe operation of household appliances. The controllers' I²C interface provides a way to track the status of touch sensors and an interrupt pin can wake the host processor from sleep after a proximity touch detection.
Mouser is also stocking the evaluation boards that showcase the capabilities of the TouchXpress controllers. The CPT212B SLEXP8018A evaluation board features 12 capacitive sense pads and the CPT213B SLEXP8019A evaluation board has a capacitive sensing input engine with 13 inputs. Both boards have a buzzer for touch feedback, touch qualification engine and expansion headers for connecting to Silicon Labs EFM8 or EMF32 starter kits.
For more information on this new product, visit Mouser.