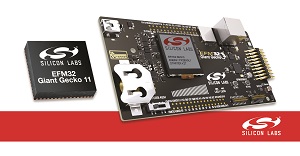 The FM32GG11 Giant Gecko microcontroller and Giant Gecko starter kit. Source: Silicon LabsSilicon Labs has expanded its Gecko series of low-power industrial microcontrollers for smart metering, asset tracking, industrial/building automation, wearables, personal medical devices and other Internet of Things (IoT) applications.
The FM32GG11 Giant Gecko family combines peak 72Mhz processing performance, large memory options, peripherals and hardware accelerators. The family includes an ARM Cortex-M4 processor core, up to 2 MB flash and 512 KB RAM, SD/MMC and Octal/Quad-SPI memory interfaces for additional memory expansion, fast wake-up/sleep transitions and low power consumption of 77 μA/MHz in active mode and 1.6 μA in deep sleep mode.
The MCUs also include communication interfaces and controllers such as 10/100 Ethernet media access control (MAC), secure digital input output (SDIO) Wi-Fi interface, single or dual CAN bus controllers, crystal-free USB controller, thin film transistor (TFT) display hardware acceleration and a current-based capacitive sense engine.
The EFM32GG11 Giant Gecko MCUs are available now in 10,000-unit quantities beginning at $5.66. A Giant Gecko starter kit is available as well priced at $99.99.