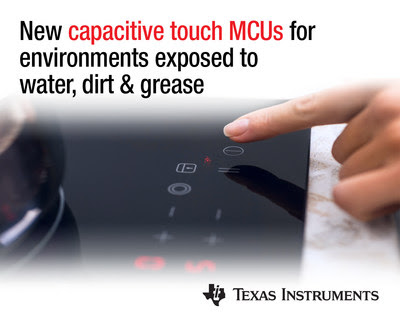 The new touch MCUs. Source: Texas InstrumentsTexas Instruments (TI) is expanding its line of microcontrollers for integrated capacitive touch to allow cost-sensitive applications to add touch to their designs.
The new MSP430FR2512 and MSP430FR522 MCUs with integrated capacitive touch can add as many as 16 buttons and proximity sensing capabilities to industrial systems, home automation systems, appliances, power tools, home entertainment, personal audio applications and more.
TI says the MCUs offer five times lower power consumption than competing devices and support proximity sensing and touch through glass, plastic and metal overlays. The technology could be used for adding touch and proximity sensing to applications such as access control panels, cooktops, wireless speakers and power tools.
Production quantities of the new MCUs are available now in a 20-pin, very thin quad flat no lead (VQFN) package priced at $0.69 in 1,000 unit quantities.