The AL1678 family of LED Drivers by Diodes Inc. addresses general illumination needs, specifically in non-dimmable retrofit LED applications that do not require high power factor (>0.7).
The 500V buck-converter LED drivers support output powers up to 15W for wide-ranging LED lighting applications such as Class-A/B/P and GU10 lamps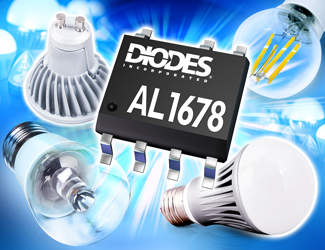 AL1678 family of LED Drivers by Diodes Inc. Credit image: Diodes Inc.across all mains line voltages. Offered in SO-7 packages, they provide a variety of current-rated 500V MOSFETs that allow designers to select the most appropriate driver to meet the needs of different bulb wattage and cost requirements.
Based on improved driver topology, the AL1678 family provides significant circuit flexibility and delivers accurate constant current line and load regulation over the 85VAC to 277VAC universal input range. In addition, the driver keeps EMI low with high efficiency, greater than 90%, which aids with EMC compliance. Total BOM lamp cost is low because it eliminates an external high-voltage MOSFET and an auxiliary winding, and requires only a single external inductor. Integrated protection features include under-voltage lockout, over-temperature protection, LED open- and short-circuit protection, as well as a thermal fold-back function to help improve the system reliability of retrofit LED lamps at high temperature. The AL1678's SO-7 package also helps improve electrical isolation and offers improved moisture resistance.
The devices are available in 10k quantities, unit prices for the different wattage/LED current AL1678 parts are: 8W/120mA AL1678-08BS7-13 $0.14 USD, 10W/180mA AL1678-10BS7-13 $0.15 USD, and 15W/240mA AL1678-20BS7-13 $0.17 USD.