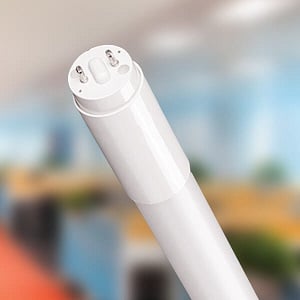 The LED T8 direct wire lamps. Image credit: Ushio America
Ushio America has introduced a new generation of LED T8 direct wire lamps to its Ubiquity series.
Ushio says the LED T8 direct wire lamps work as a retrofit solution as it can be wired to one end or both ends and improves energy efficiency. The wire lamps also eliminate the need for external ballasts and LED drivers, Ushio says.
The direct wire lamps are 12.5 watts and can be used to replace F32T8 fluorescent lamps. The lamps are available in 4,000K and 5,000K and are made with a shatterproof glass tube. Ushio says glass offers thermal conductivity, transparency and the glass in the lamps is frosted to prevent glare. The lamps offer a 50,000 hour rated life and allow for 240 degree beam angle to create a lighted environment.