Lighting house Cree, Inc. has unveiled a new portfolio of light-emitting diode (LED) bulbs in order to boost customer support for the technology by offering bulbs with a longer lifespan, better lighting and other options.
The 25 new bulbs offer a lifetime of more than 22 years and some up to 32 years, along with color improvements, quieter dimming to levels as low as 1% and even candlelight dimming that Cree claims mimics the flame of a candle.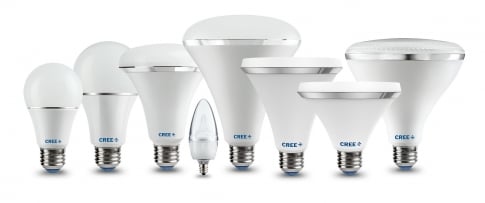 The 25 new bulbs in Cree's portfolio include a lifetime of more than 22 years and an extended range of dimming possibilities. Source: Cree The goal is to offer a better performance in LED lighting than customers have received so far in the early days of LED penetration into the residential and commercial lighting markets. "Many new LED products fail to live up to the promise of LED technology; shouldn't you choose a better bulb when it will live in your house for decades?" says Betty Noonan, CMO and GM of consumer lighting at Cree. "Cree believes it's now more important than ever to give consumers a better choice."
Cree says the 25 LED bulbs meet or surpass the requirements for Energy Star product certification and are covered by a 10-year warranty. The portfolio includes A-lamps, BR lamps, PAR lamps and Candelabra lamps as well as a series of LEDs for retrofit products.
The LED bulbs will be available later this month through Cree's website and at Home Depot.
To contact the author of this article, email engineering360editors@ihs.com