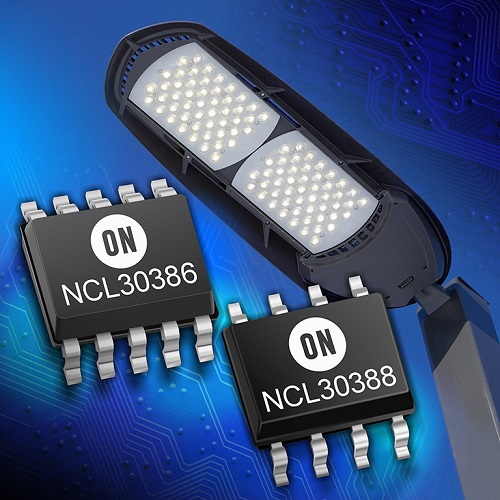 The NCL30386 and NCL30388 LED controllers. Source: ON Semiconductor
On Semiconductor has revealed two new QR PSR PWM controllers for light emitting diode (LED) lighting for use in luminaires for the office and industrial buildings.
The dimmable NCL30386 and non-dimmable NCL30388 controllers feature a power factor control (PFC) function and both devices are high power factor, single stage, constant current and constant voltage primary side regulated (PSR), pulse width modulation (PWM) devices for Flyback, Buck-Boost or Sepic power topologies.
The LED controllers operate in quasi-resonant (QR) mode to achieve efficiency levels that exceed the power standards such as ENERGY STAR and the EU's Ecodesign.
The integrated PFC algorithm ensures a PF of greater than 0.95 and total harmonic distortion (THD) of less than 10 percent across a universal input voltage range. Safety features are included in the device such as brown-out and overvoltage protection plus the ability to detect short circuits in the output, winding and diode.
ON Semiconductor says the NCL30386 and the NCL30388 will be in full production in the first quarter of this year.