Eight of the top nine mobile PC brands reduced their LCD panel purchases in July, causing global market shipments to decline by 23 percent year-over-year, according to IHS.
Global PC LCD shipments in July amounted to 14.9 million units, down from 19.3 million units in July 2012, according to IHS's latest report on LCD panels for notebooks. July shipments were down 18 percent from June, according to the report.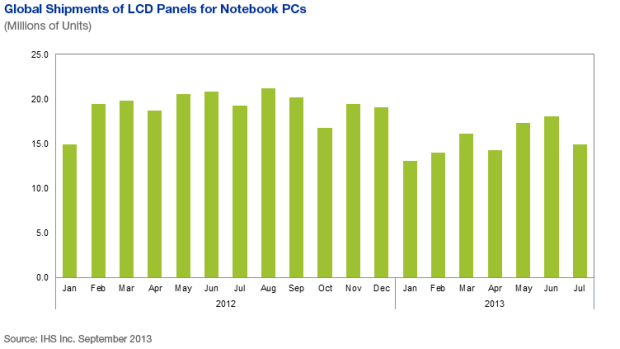 "Notebook brands during the third quarter typically increase their purchases of LCD panels as they prepare to launch new mobile PC models for the second half of the year," said Ricky Park, senior manager for large-area displays at HIS, in a statement. "However, many key brands this year have accumulated large panel inventory surpluses because of weak sales in the first half. This has caused them to reduce purchases in July, leading to major declines in notebook PC panel market shipments both on a sequential and an annual basis."
Of the nine leading mobile PC brands, only Apple increased its orders in July compared with July 2012, IHS said. Acer, Asus, Dell, HP, Lenovo, Samsung, Sony and Toshiba all cut orders year-over-year, IHS said.
Apple raised its shipments on an annual basis to meet MacBook Air demand, according to IHS.
The decline in July panel orders came on the heels of a terrible quarter for the mobile PC market, according to IHS. Worldwide mobile PC shipments in the second quarter declined by 5.1 percent compared to the first three months of the year, according to initial findings from IHS. The second quarter marked the first time that mobile PC shipments experienced a sequential decline since the second quarter of 2002—way back during the dot-com bust, IHS said.
The mobile PC industry is currently facing tough competition from media tablets, along with a dearth of innovation that would compel consumers to buy new systems, IHS said.
IHS forecasts that total notebook panel purchasing returned to sequential growth in August with a 10 percent increase. But the August total is expected to be down by 23 percent compared to August 2012, the firm said.