Driven by strong growth in North America and Western Europe, notebook PCs grew 10 percent year-over-year in the third quarter while global shipments of tablet PCs fell 8 percent, according to a new report from DisplaySearch, now part of IHS Technology.
Global sales of notebooks reached 49.4 million units during the quarter as this growth contributed to the slump in tablet PC demand, said Hisakazu Torri, VP of smart application research at DisplaySearch. The growth in notebooks was the result of good back-to-school sales supported by "low-priced, Windows-based notebook PCs and Chromebooks," Torri said.
Chromebook sales are forecast to reach 5 percent, or 8 million units, of the total global notebook PC shipments by the end of the year, DisplaySearch said. Chromebooks have found a home in the commercial and education markets due to easier IT management and volume-discount offers. DisplaySearch said that if demand reaches 20 million units in 2015, Chromebook share could rise to 12 percent.
During the quarter, the Top 5 PC brands for notebooks grew by 23 percent and represented 69 percent of the total notebooks shipped. Lenovo continued to the lead the market with 20 percent followed closely behind by Hewlett-Packard with 19 percent, as shown in Figure 1.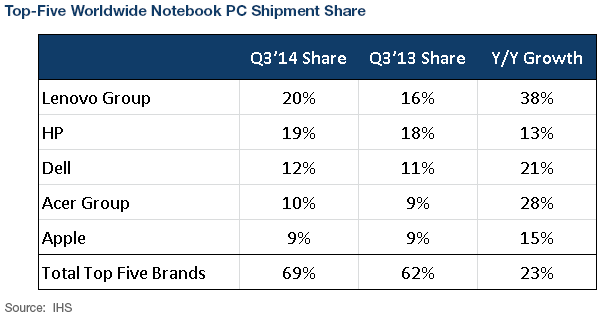 Year-over-year shipments of Apple's iPad declined 13 percent but due to increasing share gains in North America, the smartphone giant still ranks fifth globally, according to DisplaySearch.
Related links:
Quarterly Mobile PC Shipment and Forecast Report
IHS Compute, Servers & Storage
News articles:
Neonode Introduces Sensor-Free Multi-Touch Technology for PCs
AMD Launches 'Kaveri' Mobile APUs