The global market for gesture sensing control user interfaces is set to grow 10% this year thanks to growth in emerging applications such as virtual reality games, smartwatches, smart TVs and other consumer electronics, according to a new report from IHS.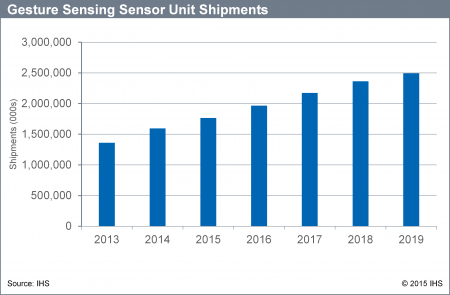 Gesture sensing control interfaces will grow to 2.5 billion units shipped by 2019. Source: IHS. Gesture sensing control user interfaces are poised to reach 1.8 billion units in 2015 and by 2019 IHS forecasts 2.5 billion gesture sensing control interfaces will be shipped in consumer electronics and information technology applications. While touch-screen technology works well for smartphones, tablets and other Internet-connected mobile devices, it is less suited for use in newer and emerging applications where gesture sensing is filling the gap, IHS says.
"Gesture sensing control will not compete with touch screens, but will instead be complementary, because each technology is appropriate for specific applications," says Calvin Hsieh, director for touch and user interfaces for IHS. Hsieh uses smart TVs as an example where touch screens will not work because the TV is too far from viewers. However, with gesture sensing control it works because it provides another layer of immersive reality or even virtual reality.
Among the leading gesture sensing technologies, optical-based 3D depth sensing—such as time of flight (ToF), stereo vision and structured light for freehand gesture sensing control—will make up 66% of the sensor unit shipments for game console applications in 2015. 3D depth sensing technologies are also making an impact in webcam technology for notebook PCs, where it is forecast to grow 43% this year. This will push 3D depth sensing technologies to overtake 2D technology this year, IHS says.
"Mainstream consumers have been aware of gesture sensing control, since the debut of the Nintendo Wii in 2006," he says. "Now almost a decade

Calvin Hsieh, director for touch and user interfaces for IHSlater, gesture sensing control is poised to become the second most common user interface for smart devices after touch screens." He cautions, however, that it will take time to develop apps that rely on gesture sensing and change consumer's touchscreen centric behaviors.
Questions or comments on this story? Contact engineering360editors@ihs.com
Related links:
Gesture Sensing Control For Smart Devices Report - 2015
News articles:
Apple Drives Demand for LTPS FTF LCD Smartphone Displays
Decline in Flat Panel Display Revenue Expected in 2015
8K TV Shipments Forecast to Grow Rapidly in the Next 5 Years
Display Technology Harnesses Ambient Light