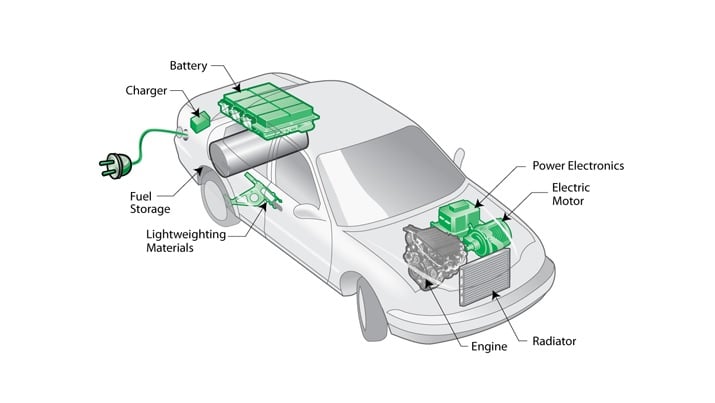 The world's first widely-available hybrid electric vehicle (HEV), the Toyota Prius, debuted 20 years ago. Since then, more than 12 million HEVs have been sold around the world – yet sales of both HEVs and fully electric vehicles (EVs) still account for only a relatively small proportion of the global car market. Battery costs, which can be as much as two to three times greater than the vehicle's motor and power electronics combined, and battery life have proved to be two of the biggest obstacles to market growth.
But recent advances in battery technology may change that picture. Over the last eight years – thanks to improved electrochemistry and its packaging, along with economies of scale – have seen significant battery cost decreases and a near doubling of energy density. Further research into the use of silicone and lithium anodes, different ways of structuring electrodes and sodium-ion chemistries could yield significant cost benefits, as well as alternate ways to package the cells into modules.
"HEV and EVs are now starting to account for four to five percent of all vehicle sales in some months, which means we are no longer just selling to early adopters but to real customers," said Professor David Greenwood, head of advanced propulsion systems at WMG, the University of Warwick. "This is the point at which volumes can really change, opening up supply chain opportunities for a whole range of organizations."
Challenges remain, however.
"It's the speed at which we can improve the battery that will ultimately impact sales and usage of HEVs and EVs," Greenwood said. "To get to a point where HEVs and EVs are fully democratized and make up 60-70% of all sales, we need to double the energy density again."
Higher volume production will also need to be matched with consistent quality. Factors that need to be taken into account include selecting coil windings that permit a high degree of manufacturing automation, and avoiding laminated steel cutting methods that negatively affect magnetic properties, which reduces electric efficiency.
Greenwood will speak on the electric vehicle market and the factors driving it at CWIEME Berlin (Coil Winding, Insulation & Electrical Manufacturing Exhibition), which runs from June 20-22, 2017.