Traditional advanced driving assistance system (ADAS) vendors are being challenged by an invasion of outsiders that are rapidly making headway in this important automotive electronics market.
Chipmakers such as Nvidia, Qualcomm and Intel are making strong inroads into the ADAS market through infotainment. Nvidia is developing processor solutions for sensor fusion and vision-based ADAS systems with its Tegra processors, while Qualcomm is using its wireless know-how to target the automotive vehicle-to-everything (V2X) market with its Snapdragon system-on-chips (SoCs) and dedicated short range communications (DSRC)-based wireless chip products.
Other semiconductor vendors such as field programmable gate array (FPGA) heavyweight Xilinx has also joined the fray offering high performance ICs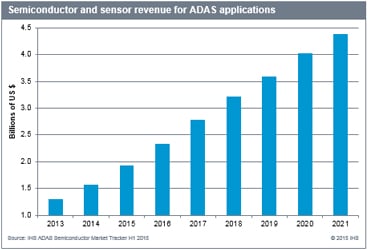 The ADAS market is forecast to double in revenue for semiconductors and sensors by 2020 reaching the $4.0 billion mark. Source: IHSfor a number of ADAS applications. Microelectromechanical Systems (MEMS) suppliers are also developing scanners for low-cost light detection and ranging (LIDAR) modules—an important ADAS application seen as a key to autonomous driving [Read: LIDAR Evolves to Support Autonomous Vehicles]
Meanwhile, adjacent industry players Google, Uber and Baidu have stepped up their development of autonomous driving vehicles forcing traditional vehicle OEMs to deploy their own plans for self-driving cars faster than what was originally anticipated, according to research from IHS.
At stake is an ADAS market that is forecast to more than double in revenue over the course of the next five years. ADAS chip and sensor revenue is forecast to grow to $1.9 billion this year, up from $1.6 billion in 2014. By 2020, IHS forecasts ADAS revenue from semiconductors and sensors will reach $4.0 billion.
ADAS Gaining Traction Among OEMs
ADAS technology is designed to help the driver during the driving process using human-machine interfaces (HMIs) to increase the safety and general road safety of vehicles. ADAS began with applications such as parking assistance and blind spot detection. While initially a luxury vehicle option, these features are rapidly becoming standards in most cars across the globe currently.
With the rise in safety critical mandates in numerous regions, consumer demand and technological advancement in ADAS technology, features such as lane departure warnings, automatic emergency braking and collision warning systems are gaining traction among automotive OEMs, IHS says.
"As a result, these ADAS features are finding increased attachment rates even on economy vehicle segments," says Akhilesh Kona, analyst for automotive semiconductors at IHS. "The best example is the latest announcement from Toyota announcing ADAS features even on their compact models."
Consumers want comfort over safety from ADAS applications. This is part of the reason IHS sees many manufacturers stepping up their development of user and safety friendly HMIs such as heads-up display and voice and gesture recognition.
However, with new guidelines from regional bodies such as the European New Car Assessment Programme (NCAP) and National Highway Traffic Safety Administration (NHTSA) calling for more safety features, ADAS applications are coming to vehicles whether consumers want them or not.
New Chips Coming Online
Luckily, semiconductor outsiders to the ADAS market are quickly developing products to meet the demands of these regional safety organizations.
Graphics processing unit (GPU) vendors such as Nvidia and Mobileye have increased the number of functions and power of their chips by adding more GPU cores and hardware accelerators than previous generations. High-end multi-core SoCs (MPSoCs) from FPGA makers—such as Xilinx's recently announced Zync Ultrascale+ device—are promising big upgrades to the processing power for the automotive market, Kona says.
"Chipmakers are developing solutions that will cut down the costs of semiconductor components for mass market volume," he says.
On the image sensor front, Sony and Melexis have announced plans for a high-definition sensor that will enable night vision functions. Developments of radar sensors using CMOS technology by Panasonic, Imec, NXP and Fujitsu are challenging traditional silicon germanium (SiGe) radar options by Infineon, STMicroelectronics and Freescale.
"Once CMOS technology is in place, the cost of radar sensors could significantly fall by 20% to 30% because of the drop in manufacturing costs and high production volumes," Kona says. "However, IHS believes that for performance-based premium radar system, SiGe would still be the preferred solution"
ADAS' Role in Autonomous Driving
Many of the outsiders to ADAS have gotten into the market because of the rise in interest and the recent technological advancements in artificial neural networks (ANN) and deep learning that is accelerating the move toward autonomous driving (Read: Deep Learning: Automotive Industry Takes a Giant Leap Forward).
Moving forward, ADAS applications will act as key milestones for reaching autonomous cars, according to Kona. While autonomous ADAS features are already implemented during the day time —such as automatic emergency braking (AEB) and adaptive cruise control (ACC)—the next steps will focus on applications during night times.
Other future ADAS steps that will need to be implemented in order to fully deploy autonomous cars include Platooning, or enabling autonomous functions through safe and secure wireless communications; fully implemented deep learning, also known as machine learning or artificially emulating the functionality of a human brain via hardware or software; and implementing autonomous cars under limited speeds and highway speeds.
Questions or comments on this story? Contact engineering360editors@ihs.com
Related links:
News articles:
Deep Learning: Automotive Industry Takes a Giant Leap Forward
Can SiC and GaN Become a Player in the Automotive Market?
Xilinx Completes 16nm FinFET Multiprocessor SoC Design
Microsemi Introduces Automotive-Grade FPGAs