The automotive semiconductor market was worth about $29 billion in 2014, up by 10 percent compared with the previous year, according to IHS, the publisher of Electronics360. The outlook for 2015 is for further growth of 7.5 percent to take the annual market to about $31 billion.
Infineon Technologies AG, enjoyed double-digit percentage growth in automotive semiconductors in 2014 and overtook Renesas Electronics Corp. to take the top position in 2014 with sales of about $2.8 billion. The previous year Infineon had been on about $2.4 billion in sales and $500 million behind long-time market leader Renesas.
Infineon has a strong presence in powertrain, chassis and safety and body and convenience domains. Increased electrification in vehicles has helped its power management solutions. Other winners in the market included: Freescale Semiconductor, Texas Instruments, On Semiconductor and Micron Technology.
While Infineon's rise to the top was partly based on exchange rate changes between the US dollar and the yen, it did not take into account its acquisition of International Rectifier Corp., which did close until the end of the year. As a result IHS believes Infineon will increase its lead over Renesas in 2015.
The growth in 2014 was driven by robust vehicle production growth and increased semiconductor content per vehicle and has produced hot areas that include: hybrid electric vehicles (HEVs), telematics and connectivity and advanced driver assistance systems (ADAS). The semiconductor revenue in these applications is forecast to achieve a compound annual growth rate (CAGR 2013–2018) of 20 percent, 19 percent and 18 percent respectively.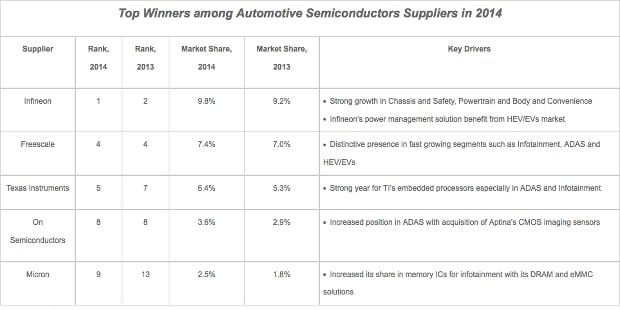 Five winners in the top ten suppliers of automotive semiconductors in 2014. Source: IHS.
Emissions legislation is pushing up semiconductor and sensor usage in powertrain applications and Ahad Buksh, an automotive semiconductors analyst at IHS, said that a hybrid electric vehicle demands ten times more semiconductor content in powertrain than a gaseoline-only vehicle.
Parts required include an inverter to convert the direct current to alternating current and vice versa, DC/DC converter is needed for bidirectional voltage control, battery management system is needed to monitor the state of the battery and plug-in charger required for charging the battery. All these applications require high-power management, which will be achieved mainly with analog ICs and discrete components. After 24 percent growth in 2014, this segment is forecast to increase 22 percent in 2015, the highest of any automotive application.
Similarly safety mandates are driving the adoption of ADAS technology. OEMs are adopting Lane Departure Warning (LDW), Forward Collision Warning (FCW) and Automatic Emergency Braking (AEB), among other technologies. These applications are being implemented with a front view camera module besides radar and lidar modules, providing high potential for semiconductor growth.
Such computer vision applications require higher processing power and increases in non-volatile and volatile memory. The semiconductor market for ADAS technology is expected to reach $1.8 billion in 2015, a 21 percent increase over 2014, according to IHS.
Questions or comments on this story? Contact dylan.mcgrath@ihs.com
Related links and articles:
IHS automotive semiconductor research
News articles:
Spansion Rolls Automotive MCUs
ARM Adds Safety File to Cortex-R5 Processor
Ceva Researches Platform to Read Body Language, Emotion
Nvidia Launches Mobile Processor Aimed at Automotive