It is critical in many designs to measure voltage and current to determine power use, battery status, and load drain. Voltage is relatively easy to assess; just put one probe or amplifier input at the point of interest and the other one on a reference point, usually circuit common or ground.
In contrast, current is much more difficult to measure, and doing so brings some challenging tradeoffs. One way to measure current in a wire or PC board trace that is both non-invasive and non-contact is by using a sensor such as a Hall-effect device. However, this is fairly costly and has some installation and calibration issues. The other way to measure current is very invasive; cut the current path, insert a sense (shunt) resistor in the path, and measure the voltage across the shunt.
Although the shunt-insertion seems straightforward, it is not. On one side, you want a larger-value resistor to get a larger reading, improved noise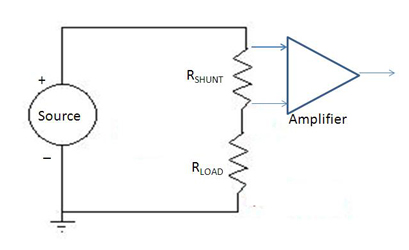 Figure 1: High-side sensing of current to load is challenging scenario, as the sense resistor must have a very small value and the tiny voltage across it must be sensed by a high-accuracy differential amplifier, and do so in the presence of high common-mode voltages.immunity and SNR. On the other side, a larger-value resistor dissipates (wastes) power and undergoes self-heating, which affects its value and thus the reading's accuracy. Also, using a larger value resistor in the load path can upset the dynamics of the circuit performance and even induce circuit instability. As a result, the shunt resistor is usually quite small, on the order of a few milliohms (mΩ), and it must be a tight-tolerance, low-drift component to get a precise, consistent reading.
The shunt resistor's value is not the only problem. In addition to having to accommodate it in the layout (it must be inserted in the current path very near the load), it is usually connected to the high side of the source or load with neither end at ground, See Figure 1 (this is done since most loads cannot tolerate even a small resistance between their low side and ground). Therefore, a very sensitive differential amplifier that can tolerate high common-mode voltage must be used to accurately read the miniscule voltage across the shunt resistor.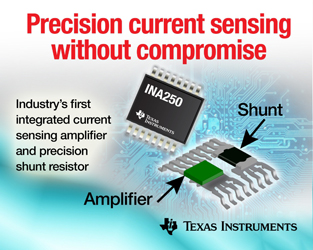 Figure 2: The INA250 from Texas Instruments packs the sense resistor and differential amplifier in a single compact package, which brings many benefits to the circuit layout and BOM. To simplify the solution to this dilemma, Texas Instruments (TI) has introduced the INA250, a bi-directional, zero-drift current-sense amplifier with an integrated, high-precision, low-drift shunt resistor, See Figure 2.
This pairing provides highly accurate measurements over a wide temperature range. In addition to the guaranteed performance of the integrated device—a physical configuration that they claim is an industry first—it yields a far smaller board-layout footprint, eliminates potential circuit-layout problems, and lowers system cost by simplifying schematic and the bill of materials (BOM), See Figure 3.
The internal 2-mΩ shunt resistor has 0.1% tolerance and low drift of 15 ppm/°C from -40°C to 125°C, and can handle currents up to 10 A. Its integrated packaging technology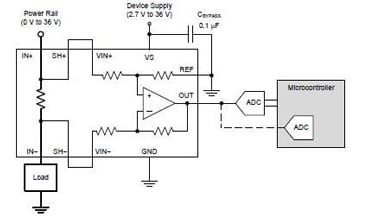 Figure 3: In a typical application, the INA250 eases design and PC-board layout tradeoffs while guaranteeing high precision and accuracy along with lower cost. ensures an optimized Kelvin connection between the differential amplifier and the resistor for precise, consistent readings due to elimination of sensing-path IR drop as a potential error source. Maximum power consumption is 300 µA, to minimize the load that the measurement topology adds to the system. It operates from a single 2.7-V to 36-V supply and meet specifications despite common-mode voltages from –0.1 V to 36 V.
TI offers an INA250 evaluation module to enable designers to easily evaluate the device's performance and accuracy; Spice models are also available for circuit analysis. The shunt resistor plus amplifier is available in a 5-mm × 6.4-mm TSSOP package, and is priced at $1.40 in 1,000-unit quantities.
Related Links: