Engineers usually don't consider a basic resistor as a likely weak link in the reliability chain, but these passive components are often placed "out there" and exposed to stressful situations. For example, when used for current sensing in high-current applications such as the motors of hybrid and electric vehicles, the resistor must handle currents on the order of 100 A as well as surges several times that value. The thermal stress and cycling are serious challenges to long-term performance.
Sense-resistor values are generally very low, well under an ohm. Deciding on a resistor value is a classic case of design tradeoffs. On one side, a larger value means the voltage across the resistor will be larger and therefore easier to capture, less susceptible to noise, and thus more accurate. However, on the other side, the larger value also means more dissipation, which results in wasted power and also self-heating of the resistor (a modest 1-mΩ resistor dissipates 10 W at 100 A). Further, a larger-value resistor can adversely affect the performance and even the stability of the closed-loop control function which is responsible for controlling the motor or load.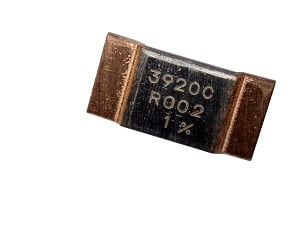 The LRMAP3920 series of low-value shunt resistors from TT Electronics are high-reliability, low-resistance components for current sensing, designed for the harsh environments where high-current motors are often used, such as EV/HEVs and industrial applications.
To meet the needs of automotive, industrial and even medical applications where large currents must be sensed in harsh thermal and mechanical environments, TT Electronics developed the LRMAP3920 series of low-value shunt resistors, available in values as low as 200 μΩ (10-6 Ω) and as high as 2 mΩ (10-3 Ω). They feature a power rating of 5 W on standard FR4 fiberglass circuit boards, with maximum measurable current over 150 A, and in most cases is limited only by the current-handling capacity of the PC-board tracks.
Sense resistors often must be electrically isolated, such as when used in the common high-side sensing topology with an isolation amplifier (TT Electronics).
Their power rating goes up to 10 W when used in assemblies using thermal substrates such as DBC (direct bonded copper) ceramic or IMS (insulated metal substrate), making these parts well-suited for power-hybrid modules. The LRMAP3920 series is AEC-Q200 qualified for the automotive market; the ability to fully isolate these resistors from ground is critical in auto applications where one side of the load (such as the motor or battery) is inherently grounded for mechanical and safety reasons, and so the sense resistor must "float" and be measured by an isolated amplifier.
Additionally, the low thermal impedance of these parts minimizes self-heating of the resistor, which in turn further improves reliability. The resistors feature 1 percent accuracy, typical load life stability of ±0.5 percent, together with temperature coefficient of resistance (TCR) down to ±50 ppm/°C (20°C to 60°C) and thermal EMFs less than 2 μV/°C; self-inductance is under 3 nH. The result is that only a small part of the designer's "error budget" is consumed by the resistor itself, thus enabling more design freedom elsewhere in the circuit.
These resistors measure 10 mm long × 5.2 mm wide, with a height of 0.5 mm. They are manufactured using the latest bulk-metal technology with e-beam welded copper terminations to deliver very-low surface temperatures and excellent surge-energy performance, an unfortunate and complicating reality in these applications. The LRMAP3920 resistors feature high energy-surge capability up to 14 J, for high reliability under inrush and momentary short-circuit conditions.