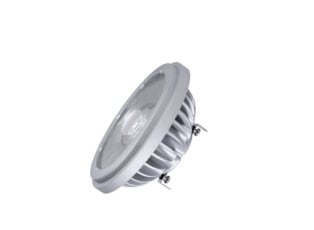 Soraa launches the first full visible spectrum 4-degree AR111 LED lamp. Source: Soraa.comTargeting the illumination of small objects and small spaces, Soraa has unveiled the full visible spectrum 4-degree 6W AR111 LED lamp with what the company claims to be an outstanding peak intensity, flawless beam definition and edges, exceptional color (a CRI of 95 and R9 of 95) and whiteness rendering. The lamp is also customizable with the company's SNAP System.
According to George Stringer, senior VP of Americas Sales and Marketing at Soraa, a combination of low-power consumption, a 4-degree beam based on the company's GaN-on-GaN LED, POINT SOURCE OPTICS technologies, proprietary color and natural white technologies is what makes the AR111 lamp precision lighting perfect.
The optics technology enables a peak intensity of 12,600Cd for the VIVID series and 15,900Cd for the BRILLIANT series. Soraa's Violet-Emission 3-Phosphor (VP₃) LED technology enables perfect rendering of colors and whiteness as well. The company's VP₃ NATURAL WHITE is achieved by engineering the violet emission to properly excite such fluorescing brightening agents such as human eyes and teeth and white materials such as clothing, paper and cosmetics.
The AR111 LED lamp is compatible with a wide variety of industry-standard dimmers and transformers and can be used in enclosed, non-ventilated indoor and outdoor fixtures. It is available in 2700K and 3000K color temperatures.
Related Links: