The worldwide market for chips for industrial electronics will grow by 11 percent to $36.4 billion in 2014, fuelled by a reviving global economy, according to an IHS Technology report.
The next four years will also see continued expansion. By 2018, industry revenue will amount to some $49.0 billion. The growth will slow slightly but over the period 2013 to 2018 is still expected to display a compound annual growth rate of 8.5 percent.
The industrial chip market was worth $32.8 billion in 2013 up 9 percent on 2012, a year in which the market fell by 5 percent.
The latest data differs slightly from the preliminary figures put out by IHS in January 2014 (see Industrial Electronics Turns Around in 2013). The market research firm and publishers of Electronics 360 has reduced its figure for industrial chip sales in 2013 from $33.7 billion resulting in a trimming on the 2013 annual growth from 11 percent down to 9 percent. But at the same time the long-term growth prospects have been increased so that 2018's forecast has been increased from $45 billion to $49 billion.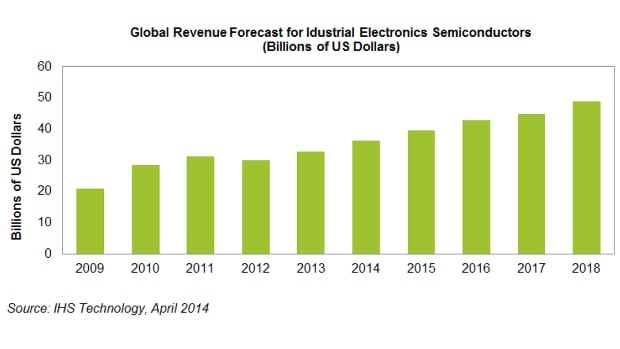 "A recovery in the industrial market on a worldwide scale during the second half of 2013 made industrial electronics the second-highest growth sector in the overall semiconductor business for the year, just behind wireless," said Robbie Galoso, principal analyst for industrial electronics at IHS, in a statement. "Moreover, several chip companies and original equipment manufacturers across the industrial application market reported improved revenue and orders in the fourth quarter, which helped to strengthen year-end results."
U.S., China both showed strength
The U.S. and China were two of the strongest regional markets for chips for industrial electronics in 2013. While the U.S. market was driven by the general economy and house-building markets China saw broad-based revenue increases for medical electronics, energy, manufacturing, and building and home control.
Many of the companies that performed well in the fourth quarter did so on the back of sales associated with light-emitting diodes (LED) aimed at the residential market. Manufacturers include: Cree Inc. (Durham, North Carolina) and Osram GmbH (Munich, Germany) and Philips (Amsterdam, The Netherlands). Texas Instruments Inc. (Dallas, Texas) also prospered in 2013 thanks to power semiconductors sold for factory automation applications.
The top five countries in 2013, based on the percentage spent by each country on industrial chip design, were the United States, China, Japan, Germany and France, with Switzerland, Taiwan, South Korea, Canada and India making up the rest of the top 10.
Because of the ever wider ban on energy inefficient incandescent lamps LEDs are projected to be the industrial electronics semiconductor product with the highest growth over the next five years, delivering annual revenue worth $7.8 billion in 2018.
These findings can be found in the report, "Stable Q4 Fuels Industrial Semiconductors' Robust 2013 Growth," from the Semiconductors & Components service of IHS.
Related links and articles:
IHS Semiconductor & Components Service
News articles:
Texas Instruments Forms IoT Cloud Club
Infineon CEO Calls for Pan-European Cooperation