STMicroelectronics NV has told financial analysts that it is "considering options" for its Digital Products Group, an indication that the business unit may be up for sale.
The group includes set-top box (STB) chipsets, ASICs for networking and CMOS image sensors. However, it does not include many digital products with which ST has been successful, such as general purpose, automotive and secure microcontrollers (MCUs) or car infotainment ICs. The general purpose and secure MCUs are included in another ST product group called the MMS Group (for Microcontrollers, Memories and Smartcards)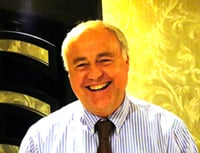 Jean-Marc Chery, COO of STMicroelectronicsDuring a morning of presentations, panel sessions and a question and answer session, executives presented on the challenges facing the Digital Products Group (DPG), including the slow adoption of ultra-high definition television hurting sales of STB chipsets, softness in networking ASICs, the unexpected loss of some key projects and the aftermath of the closure of ST's camera module business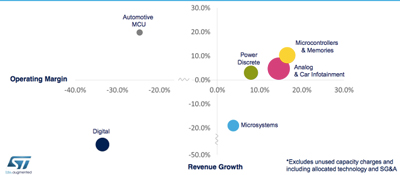 ST product groups plotted by operating margin 2014* versus revenue growth for 2014/2013. The size of the circles represents sales contribution. Source: STMicroelectronics..
Jean-Marc Chery, ST's chief operating officer, told the analyst meeting in London that the unexpected postponement and cancellation of important consumer ASIC projects had impacted revenue growth in DPG and, as a result, revenue and R&D costs were out of alignment. "DPG losses are unsustainable and DPG product families are under scrutiny and we are exploring options," Chery says.
Carlo Bozotti, ST's CEO, echoed Chery's statements. "DPG is not contributing to profits," Bozotti says. "DPG losses are unacceptable. This problem needs to be fixed and it will be fixed."
Unfortunately, DPG's problems appear to be a continuation of those that beset ST when it tried to create a joint venture with Ericsson to address the mobile processor market. The entry and exit of the joint venture has cost ST hundreds of millions of dollars. Although ST-Ericsson became defunct in 2013, the costs have effected ST through 2014. Even now, what remains of ST's digital products group are still dragging on ST's financial performance.
Bozotti declined to reveal what options ST is considering for the Digital Products Group and would not speculate on the timeframe before a decision is reached. But, he told analysts, "It is very, very important and very, very urgent."
Bozotti did say that the fate of ST's French wafer fabs in Crolles and Rousset were not tied to that of the Digital Products Group, which had been a source of speculation. "We are talking about a product group, not about manufacturing," Bozotti says. "We have just made a two-year effort to make Crolles much more focused on MCUs and much less dependent on consumer electronics."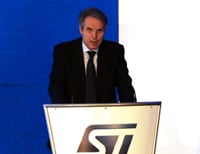 Carlo Bozotti, CEO of STMicroelectronics. Source: STMicroelectronics
A few days before the London event, ST announced it would not develop its home-grown fully depleted silicon on insulator (FDSOI) IC manufacturing process beyond the 14nm node (see ST to Exit Digital IC Manufacturing Race). However, senior ST executives at the London event said that manufacturing of circuits that do not need the most advanced digital logic processes is still part of ST's plan. ST will use foundry partners for leading-edge digital fabrication. ST still has six manufacturing sites: Crolles, Rousset and Tours in France; Agrate, Catania in Italy; and Singapore.
FDSOI Going More-Than-Moore, IoT
COO Chery, who has helped bring the FDSOI technology to market, emphasized that FDSOI is well suited to embedded ICs with non-volatile memory or for RF, analogue and mixed-signal circuits. This use of multiple circuit types on a single die is often known as More-than-Moore to differentiate it from the pursuit of leading edge for performance and area scaling of digital logic and memory.
Chery says the first multi-project wafers for 14nm FDSOI have already run and that the process will have improved figures of merit over the 28nm process. However, this will be simplified in the back-end of line (BEOL) to avoid—as much as possible—the use of multipatterning lithography, Chery says. Moving to 14nm transistors is expected to reduce area, manufacturing complexity and cost, Chery says.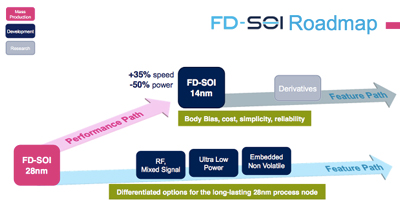 FDSOI roadmap showing addition of More-than-Moore derivative processes. Source: STMicroelectronics."We can repeat what we are seeing at 40nm," saysChery. "28nm is the last node without multipatterning. This technology [FDSOI] will be on a long-lasting node. You can add RF features. It is the perfect technology for IoT. And then, there is a next generation node that brings further figures of merit improvement but still acceptable in the BEOL [back end of line]."
Chery told analysts that ST would use FDSOI in production for its Digital Product Group, Automotive and MMS. He says ST is increasing the volume of FDSOI wafers it can produce and will soon reach 1,000 wafers per week.
Over the next two years, ST expects to convert Crolles to the production of embedded flash microcontrollers from about 30% of production in 4Q14 to 60% in 4Q17 with the remainder being FDSOI and specialty image sensors.
Questions or comments on this story? Contact: peter.clarke@ihs.com
Related links and articles:
IHS Semiconductor Manufacturing Research
News articles: