STMicroelectronics NV, Europe's largest chip vendor, has clawed its way back to profitability after having to back out of mobile phone processors. But it is some way behind its peers on the road to profit and the effort has left the company weakened and smaller than it was.
Whether ST can rebound in digital, rides on a process manufacturing process called fully-depleted silicon on insulator (FDSOI), which ST claims to have first design wins targeting the 14nm node. These being for networking applications.
For ST, 2015 will be a make or break year as illustrated by at least two product areas, digital products where many are waiting to see if FDSOI will materialize and bring power efficiency benefits and with how much volume – and in analog & MEMS. The latter business had a poor 2014 as it lost a key design wins in the mobile space and now seeks to gain traction in adjacent markets and with novel sensors.
ST reported a net profit of $43 million for its fourth quarter on revenues of $1.83 billion, down 9.2 percent on the same quarter a year before.
The company although still the largest chip vendor in Europe has only just got back into profit after many quarters of financial losses due to its attempt to compete in mobile application processors. The company has now chalked up three quarters of profit. For the full year 2014, ST's revenues totaled $7.40 billion, down 9.2 percent on the year 2013 and it made a net profit of $128 million.
Carlo Bozotti, ST's CEO, said that he expects sales to decrease sequentially in the first quarter of 2015 by about 5 percent, although he pointed out that this is better than the usual seasonal decline in what is traditionally the weakest quarter of the year.
"Our main objective during 2015 is to continue to deliver year-over-year improvement, by returning to revenue growth and by continuing to improve our cost structure," Bozotti said in a statement.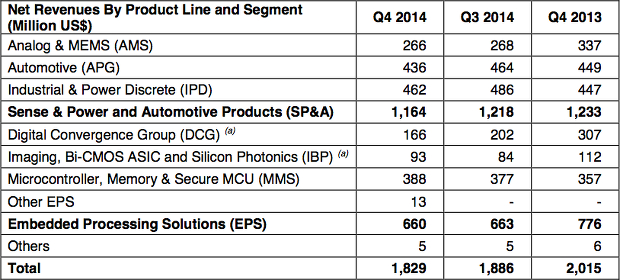 STMicroelectronics net revenues in 4Q14. Most are down compared with 4Q13 exceptions include microcontrollers and industrial & power. Source: STMicroelectronics.
However it is notable that among ST's shrinking revenue in the fourth quarter Analog & MEMS is well below where it was in the same quarter a year before; revenue of $266 million versus $337million. ST ascribed this to "product pruning and product generation transition." However, the main factor is that during 2014 ST lost design slots for its MEMS sensors in the Apple iPhone.
The Digital Convergence Group which is soon to merge with the Imaging, BiCMOS ASIC and Silicon Photonic Group was also well down on its year-before sales; $166 million versus $307 million.
These two will become the Digital Products Group but with a focus on ASSPs addressing home gateway products and set top boxes (STBs) as well as FDSOI ASICs for consumer applications, the lack of traction there should be a cause for concern.
It is notable that during the fourth quarter of 2014, ST notified IBM of its intention to end participation in the IBM Technology Development Alliance but also recorded a one-time licensing payment of $13 million.
The technology transfer that triggered this payment was not disclosed.
CEO Bozotti did tell financial analysts that FDSOI now represented a "broad design-win pipeline." Jean-Marc Chery, chief operating officer of ST, commented: "FD-SOI technology progressed well and we received first designs awards in 14nm for networking."
Questions or comments on this story? Contact dylan.mcgrath@ihs.com
Related links and articles:
IHS semiconductor value chain research
News articles:
Samsung Licenses 28nm FDSOI Chip Process from ST
Despite MEMS Troubles, ST Returns to Profit in Q2
Synopsys' de Geus: FinFET Transition Gaining Momentum