European chip companies AMS AG and STMicroelectronics NV have teamed up to offer a reference design for near field communications (NFC) suitable for inclusion in smartphones and wearable devices.
NXP Semiconductors NV, one of the co-inventors of NFC along with Sony Corp., has long been pioneering the technology's use within mobile phones as a payment platform—although the market has been slow to develop. However, with the announcement of Apple Pay, Samsung Pay and Android Pay initiatives the NFC chip market is expected to accelerate over the coming years.
A recent teardown of Apple's iPhone 6 Plus conducted by IHS Technology revealed that NXP provided the PN65V NFC controller while AMS (Unterpraemstatten, Austria) provided an antenna booster IC (see iPhone 6 Plus: $100 Costlier for Consumers to Buy—Just $15.50 More Expensive for Apple to Make).
NFC is a short-range wireless communication technology that operates on a 13.56MHz carrier frequency to allow mobile phones to communicate with readers, smartcards and other NFC-capable devices. The connections are used to perform contactless transactions that can include access control, public transport ticketing, secure payment and simple data transfers. While initially targeted at mobile phones, NFC technology is likely to also be deployed in tablet computers, gaming consoles and wearable equipment for sports and medical uses.
The AMS-ST reference design includes the AS39230 analog front end and booster from AMS partnered with the ST21NFC controller and ST33G1M2 secure microcontroller from ST (Geneva, Switzerland).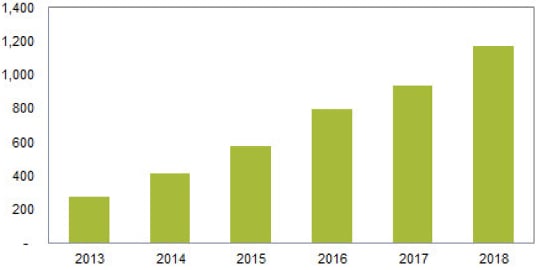 Worldwide annual shipments of NFC-enabled cellular handsets (in millions). Source: IHS Inc. February 2014.
The AS39230 boosts the signal of the antenna, increasing the signal strength by up to a factor of 10 when compared with conventional passive load modulation methods of transmitting a signal, according to AMS. This means that the antenna can be reduced in size down to 100 square millimeters. It also allows a device's metal casing to be used as an antenna.
The ST chips are contained in the ST54E system-in-package. Based on the SC300 32-bit RISC core licensed from ARM, the ST33G1M2 delivers Common Criteria-certified security features, together with embedded flash, which allows OEMs and service providers to plan for future implementations.
Mark Dickson, director of marketing in the wireless connectivity and power division of AMS, said in a statement that combining the active boost technology in the AS39230 with ST's advanced NFC system-in-package would enable OEMs to ensure robust device card emulation capability.
"Consumers will continue to use their phones or smartwatches for mobile payments and contactless ticketing only if the technology works faultlessly every time, no matter how they present their device to the reader, " Dickson said.
NFC was integrated into 18.2 percent of the 1.5 billion cell phones that shipped worldwide in 2013, according to market research by IHS Technology published in February 2014 (see NFC-Enabled Cellphone Shipments to Soar Fourfold in Next Five Years). IHS predicted that this will rise to 64 percent penetration by 2018, or about 1.2 billion units. By 2018, all NFC modem-device-type shipments will grow to 1.64 billion, up from 321 million in 2013, according to IHS.
Questions or comments on this story? Contact peter.clarke@globalspec.com.
Related links and articles:
News articles: