Altera Corp. has joined the Industrial Internet Consortium (IIC), an industry organization that aims to accelerate the adoption and use of interconnected machines and devices for the Internet of Things (IoT).
Altera's role in the consortium will be to work with the other 150-plus member companies in developing a roadmap for the industrial internet—a network of intelligent devices and sensors that can exchange data via different connectivity protocols in order to enhance productivity for a range of end-market applications.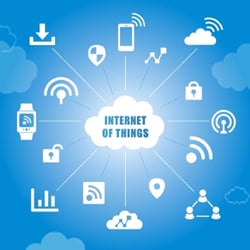 FPGA and SoCs will allow designers of IoT aplications to bridge wired and wireless interface standards.Source: Altera Corp.Altera says its field programmable gate arrays (FPGAs) and system-on-chips (SoCs) allow designers of IoT applications to bridge wired and wireless interface standards as well as accelerate data analytics and control functions in a data center.
"Altera technology will enable the IIC to look at innovative ways to support accelerated intelligent cloud and gateway platforms that collect and process the input from a wide variety of 'things' at the edge of the network," said David Moore, director of Altera's industrial business unit. "These platforms can benefit significantly from Altera's hardware and software programmability, which can flexibly service fragmented application needs while offering the performance to cost-effectively accelerate analytics and security in the data center and IoT infrastructure."
The IIC is an open membership organization founded by AT&T, Cisco, General Electric, IBM and Intel in March of 2014. To date, the ICC has 157 members.
Questions or comments on this story? Contact peter.brown@globalspec.com
Related links:
News articles: